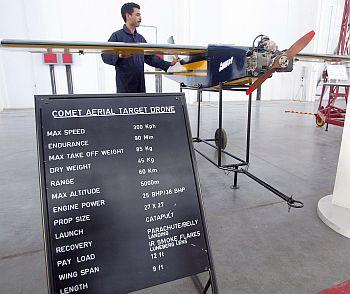 The Pakistani Air Force has started the production of pilot-less drones, days after Prime Minister Yousuf Raza Gilani pressed the United States to transfer the sensitive technology for a more potent type, which is used by the American military to target the Taliban.
According to details issued by the PAF, the Pakistan Aeronautical Complex Kamra has commenced the production of pilot-less planes Falco Unmanned Aerial Vehicle (UAV), in collaboration with Selex Galileo of Italy, the Geo TV reported.
During his meeting with US envoy to the region Richard Holbrook on August 17, Gilani had asked the US to provide drone technology to Pakistan, to enable its armed forces to take action against terrorists. Aeronautical Complex chief Air Marshal Farhat Hussain said pilot-less Falco UAVs were highly important for the country's defence, adding that the production of the planes will greatly add to the professional capabilities of the PAF.
Farhat said Pakistan is now a member of the club of countries manufacturing drone planes. The system will be used mainly for aerial reconnaissance and information gathering, although the PAF will later also induct UAVs equipped with weapon systems to carry out offensive operations.
The US military generally uses MQ-1 Predator which is also an UAV. It can serve in a reconnaissance role and fire two AGM-114 Hellfire missiles. The aircraft is in use in Afghanistan and Pakistan. Drone attacks have killed scores of Taliban and al Qaeda militants. In the latest such strike, Pakistan's Tehrik-e-Taliban chief Baitullah Mehsud was reportedly killed in a drone attack.
Image:  Pakistani air force technicians work on a unmanned spy Comet Aerial Target Drone aircraft | Photograph: Mian Khursheed/Reuters