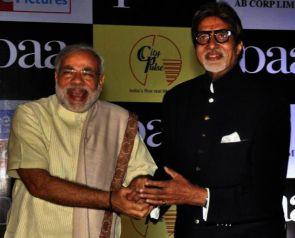 Who will make it to this year's Padma awards list?
Speculation is rife that the Narendra Modi government is considering to confer the Padma Vibhushan, the second highest civilian award in the country, on Bharatiya Janata Party patriarch L K Advani.
Spiritual gurus Baba Ramdev, who campaigned excessively for the BJP in the 2014 Lok Sabha elections, and Sri Sri Ravishankar are likely to receive the honour as well.

The names of movie superstars Rajnikanth, Amitabh Bachchan, who is a brand ambassador of Gujarat, and Dilip Kumar are also doing the rounds. Ad-man and lyricist Prasoon Joshi, who designed BJP's poll campaign, is also likely to get the award, which will be announced on the eve of Republic Day.
Apart from Advani the only other politician who may make it to the list of 148 awardees is Punjab Chief Minister Parkash Singh Badal, whose Shiromani Akali Dal is in alliance with the BJP.

Sports personalities picked for the honour are hockey team captain Sardara Singh, badminton player P V Sindhu, chess grandmaster Sasikiran Krishnan, wrestler Sushil Kumar, his coach Satpal and Arunima Sinha, the first women amputee mountaineer to climb Mount Everest, according to a report in The Indian Express.
Economist Bibek Debroy, now a member of NITI Aayog, journalists Rajat Sharma and Swapan Dasgupta may also be nominated, the report says.
However, the ministry of home affairs on Friday said that the government has not yet announced any names for the Padma awards and added that the names appearing in the media are speculative.
"The government has not yet announced Padma awards for 2015. These awards are announced on January 25 every year, on the eve of the Republic Day," it said. "The names appearing in the media are speculative and there is no official confirmation for the same," it added.

Image: A file photo of Prime Minister Narendra Modi with Bollywood actor Amitabh Bachchan.