The Samajwadi Party government went overboard in deploying nearly 10,000 policemen to patrol the streets of Ayodhya to prevent the VHP from carrying out its 84-kosi parikrama, reports Sharat Pradhan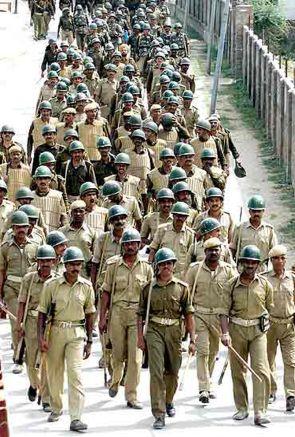 An uneasy calm prevailed in the ancient temple town of Ayodhya where policemen outnumbered volunteers the Vishwa Hindu Parishad mobilised for its much-hyped '84-kosi parikrama'. The yatra proved to be a damp squib on the very day of its launch on Sunday.
All shops and commercial establishments kept their shutters down, while government offices and educational institutions were in any case closed, it being a Sunday. Ayodhya wore a deserted look with cops patrolling the thoroughfares, streets and lanes of the rustic town.
Other than government cars and jeeps, only media vehicles were seen plying on the streets and highways connecting the temple town to the neighbouring districts.
Nearly 10,000 policemen were deployed in addition to the routine security arrangements that were in place. The presence of the Rapid Action Force in their full gear kept most people indoors.
The worst hit were those who earn their livelihood from devotees converging to the town. "We live in peace and earn our livelihood by selling articles required for 'puja' in the temples, but now that all roads have been sealed we have not earned a penny since the past two days," said Ashok, a shopkeeper.
'Pandas' and barbers who make their living by performing routine religious rituals for devotees on the banks of the Saryu river are equally unhappy with the developments.
"I make a living shaving the heads of devotees, but what do I do when no one is allowed to come. I don't think I will be able to feed my family of five today," said Ram Sewak, a barber, who sees a "political game behind the whole thing."
The 'parikrama' was pushed in defiance of a ban ordered by the Samajwadi Party government because of its political undertones.
While the agenda behind the 'parikrama' -- to mobilise public opinion in favour of a grand Ram temple at the disputed Ramjanmabhoomi-Babri Masjid site -- had clearly failed to emotionally surcharge the atmosphere, the state government went overboard making arrangements to prevent the ritual.
The ban resulted in disrupting normal life not only in the twin towns of Ayodhya-Faizabad, but also in more than half a dozen towns falling within a radius of 100 km.
All vehicular movement was brought to a halt between Ayodhya-Faizabad and six districts including Ambedker Nagar, Basti, Sant Kabir Nagar, Gonda, Bahraich and Barabanki. The usually busy 130-km expressway connecting Ayodhya to the state capital, Lucknow, remained deserted since Saturday.
Several thousand trucks could be seen lined up along the expressway, blocking one side completely for several kilometers since Saturday morning. There appears to be no respite even for those transporting perishable items.
That the Samajwadi Party government was overdoing it was evident from the extremely heavy deployment of police. On an average, about 200 to 250 policemen were seen trailing a single VHP leader. Yet, District Magistrate Vipin Dwivedi did not seem satisfied and was often seen screaming at police officers to rush "more force" to take a handful of ordinary VHP volunteers into custody.
VHP spokesman Sharad Sharma claimed that despite the ban and extensive police arrangements, "as many as 4,000 VHP volunteers managed to reach Makhoda village, about 15 km from Ayodhya to accomplish what was described as the first lap of the 84-kosi parikrama."
State Additional Director General (law and order) Arun Kumar claimed that they had taken over 2,000 VHP volunteers into custody.
Sure enough, both sides were out to make claims and counter claims, essentially aimed for the consumption of their respective vote banks. If the VHP hopes to sell their assertion in carrying out the 'parikrama' to woo Hindus, Samajwadi Party Chief Mulayam Singh Yadav was confident of playing to the Muslim gallery by reliving his old image of "mulla" Mulayam, who would not allow the fundamentalist Hindu organisation to bulldoze its way.