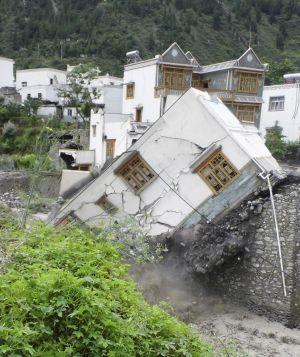 China continues to reel under heavy floods with 277 people dead or missing in rain-triggered disasters since last week, while a key bridge, connecting a national highway, was Tuesday washed away by flood waters.
A total of 58 people were killed and 175 others were missing in rainstorm-triggered floods and a major geological disaster last week in southwest China's SichuanProvince, state-run Xinhua news agency quoted local officials as saying.
The province, which was recently devastated by an earthquake, was subjected to heavy rains since last week resulting in heavy floods and landslides in which many houses were buried.
Four persons were killed when a road bridge that formed part of a national expressway in the city of Fuxin, in northeast China's LiaoningProvince collapsed under the weight of flood waters.
Built in 1969, the bridge in Fuxin forms part of the No. 101 national expressway linking Beijing with Shenyang, the provincial capital of Liaoning.
The Raoyang River witnessed record flooding on Monday with its level touching the highest point since the river's hydrometeorology data was first recorded in 1951.
In addition to the accident, the city's transport department has found another three bridges on the expressway in danger of collapse as downpours have eroded the structures' foundations.
The department has closed the expressway section to traffic, the report said.
Meanwhile, local officials said that as many as 26 people were killed in north China's Inner Mongolia Autonomous Region this month, local officials said.
Another person has been listed as missing due to the floods.
Also three persons were killed and seven others reported missing in floods triggered by heavy rains in GansuProvince in the last two days.
Heavy rain pounded HuanxianCounty in the last two days with rainfall reaching up to 42.3 mm within an hour in FanjiachuanTownship, local officials said.
As of today, rain-triggered floods had forced over 200 people in six villages to relocate to tents, and 9,267 hectares of crops had been damaged, a spokesman said.
Road traffic, telecommunications and electricity were disrupted in the township, and power has not yet been fully restored.
Over 100 people were killed and over 175 missing in floods and landslides in different provinces in China during the past few days.
Image: A house is seen damaged after a landslide in Aba Tibetan and Qiang autonomous prefecture, Sichuan province.
Photograph: Reuters