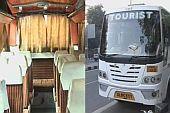 Parliament on Tuesday expressed shock and outrage over the barbaric gangrape of a girl inside a moving bus in South Delhi with strong demands being made for capital punishment to perpetrators of such heinous crimes.
The Lok Sabha and the Rajya Sabha saw members of all parties speaking in unison and raising serious concern over repeated incidents of rape in the national capital, whose law and order comes directly under the Union Home Ministry.

Opposition members demanded a categorical assurance from Home Minister Sushilkumar Shinde that such an incident will not recur.
Women members in both Houses were in the forefront in expressing shock and anguish over the incident, voicing concern over the safety of the fair sex in Delhi. Cine star-turned-MP Jaya Bachchan even broke down while speaking on the issue in the Upper House.
In the Lok Sabha, Speaker Meira Kumar led the House in expressing outrage over the "spine-chilling" incident, saying it was shameful for the entire society.
She asked the government to take strong steps immediately in the matter as an impromptu debate took place in both Houses over Sunday night's incident in which the 23-year-old paramedic was raped and brutally assaulted.
Leader of the Opposition Sushma Swaraj made a strong pitch for capital punishment for such crimes, a demand which did not find favour with Girija Vyas (Cong), who said such a penalty would lead to killing of women after rape.
Swaraj, however, got support from her party colleague Najma Heptulla as well as UPA ally DMK member Vasanthy Stanley and V Maitreyan (AIADMK) in the Rajya Sabha, who said "these culprits should be hanged till death".

Maitreyan also urged the government to amend the law and introduce death penalty for rapists.

"Death penalty is the only punishment that is to be given. We can enact a law. This will serve as a deterrent," Heptulla said.
Eminent jurist and Rajya Sabha member Ram Jethmalani demanded removal of the Delhi Police chief over the failure to check the "heinous" crime.
Women members in both Houses said that the "barbaric" incidents of rape turned a woman into a living corpse and therefore there was need to give death penalty to perpetrators.
BSP chief Mayawati said law should be amended to ensure stronger action in such cases. "Nothing will happen by only arresting the perpetrators. Give them stringent punishment," she said.
Jethmalani said, "Former Prime Minister Lal Bahadur Shastri set an example of democratic responsibilities that somebody's head must roll.
"I am not asking for the Home Minister's head...But the head of the Delhi Police chief must roll and you must ensure that this happens if he does not do it (resign) voluntarily."     

Jaya Bachchan (SP), who stood in protest for quite some time over not being allowed to speak on the issue of women's safety in Delhi, said an act of sexual assault should be treated on par with murder and section 307 of IPC should be amended to include rape in it.
"I am terribly disturbed...I am very shocked," Bachchan said in a choked voice.
Derek'O' Brien (TMC) said as he spoke on the issue in the House, he was "nervous and scared as a father of a 17-year-old daughter" as Delhi is becoming "rape capital".
"It is not a woman's issue. It is a male issue. Men have stopped behaving like human beings and started behaving like animals...worse than animals," he said.