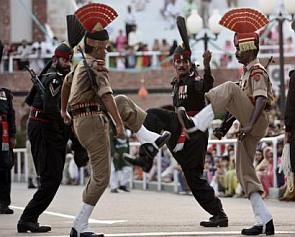 India on Wednesday said that terrorism was a "core concern" in its bilateral ties with Pakistan and its "tool kit" is not restricted in any manner to combat it effectively, firmly rejecting Islamabad's criticism of Prime Minister Narendra Modi's "proxy war" comments.

New Delhi's strong reaction came hours after Pakistan dubbed as "baseless rhetoric" comments by Modi on Tuesday accusing it of indulging in proxy war against India.

Islamabad also said both countries should focus on resolving issues instead of engaging in blame game.

"Terrorism for us is a real and present danger. The Prime Minister was articulating what is for us the core concern in our relation with Pakistan. Mere denials of selective approaches towards terrorism are not going to drive away our concerns," External Affairs Ministry Spokesperson Syed Akbaruddin told reporters in Delhi.

"India will in any case address its concerns on terrorism through all means available to us. Our tool kit is not restricted in any manner," the Spokesperson said.

He said India's concerns stem from the fact that some of the worst terrorist attacks in the country owe the genesis to areas which were either in Pakistani control or from Pakistan and referred to the Parliament
attack and Mumbai carnage.
Asked whether the talks between Foreign Secretaries of the two countries will go ahead, he only said they are meeting following directives from prime ministers of both the countries to be in touch and look at the way forward in bilateral ties.
The talks are due to be held in Islamabad on August 25.
In Islamabad, Pakistan Foreign Office Spokeswoman Tasnim Aslam criticised Modi's comments accusing Pakistan of resorting to proxy war.
"The press reports of Indian accusations, at the highest political level, are most unfortunate, especially as the leadership of Pakistan wishes to establish good neighbourly relations with India," she said.
Slamming Pakistan's criticism, the External Affairs Ministry spokesperson said the attack on our Parliament and Mumbai terror attack cases cannot be just "wished away".
"These are matters of present and real concern to us and Prime Minister was articulating our core concerns in our relationship with Pakistan," he said.
Modi, in his address to the Army and Air Force personnel on his maiden trip to Leh on Tuesday, had said, "It is unfortunate that our neighbour's attitude... they have lost the power to fight a war but they use proxy war. There has been a process of killing innocent people through this proxy war."