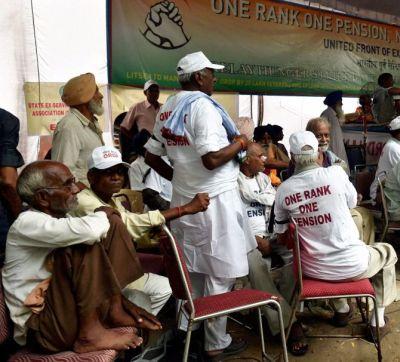 Agitating ex-servicemen on Monday continued with their relay hunger strike over the 'One Rank One Pension' issue at Jantar Mantar in New Delhi as they prepared for a mega rally this weekend to press for removal of "anomalies" in the OROP announced by the government.
The veterans, who called off their fast-unto-death on Sunday after Prime Minister Narendra Modi made it clear that the armed forces jawans who have had to give up their jobs prematurely would be covered by OROP benefits announced by the government on Saturday, said, they are awaiting for a written order to come out on the OROP.
"The relay hunger strike and pan-India agitation will continue till all anomalies are resolved. We thank the government for finally declaring OROP after a wait of 42 days.
This is only the beginning," Col (Retd) Anil Kaul said.
Indian Ex-Servicemen Movement President Lt Gen (Retd) Balbir Singh said the core committee of the veterans will meet on Tuesday to decide the future course of action.
"A one-member judicial commission will be appointed by the government in the coming days. We could take our grievances to the commission. The final decision would be taken by the core committee tomorrow," Balbir told PTI.
Meanwhile, the protest by the veterans entered its 86th day today.
Chairman of the Indian Ex-servicemen Movement Maj Gen (Retd) Satbir Singh had on Sunday warned that ex-servicemen will be "forced" to resume their "hunger strike till death" if there was no satisfactory resolution of the pending issues by the government.
The government's decision to appoint a one-member judicial commission to examine various aspects of the OROP has also been rejected by the agitators as they demanded a five-member committee comprising three ex-servicemen, one serving member from the armed forces and a representative from the Ministry of Defence.
Singh said it was agreed during the negotiations that the base year for calculation of pension would be 2013-14 and not calendar year 2013 as announced by the government.
Pressing for March 31, 2014, as base date, Singh said if government sticks to the calendar year, then December 31 should be the basis for fixing the benefits.
Elaborating, Singh said, "It was agreed that we would be given top of the scale. Now they have given the average of the scale which is not acceptable."
The veterans, who have been pressing for one rank-one pension (OROP) for four decades, had on Saturday won a partial victory with the government announcing that it would implement it.
The government had announced that the OROP would cost between Rs 8,000 cr to Rs 10,000 cr and arrears, estimated to cost the exchequer anywhere between Rs 10,000 crore to Rs 12,000 crore, would be paid in four half-yearly installments. However, all widows, including war widows, will be paid in a single installment.