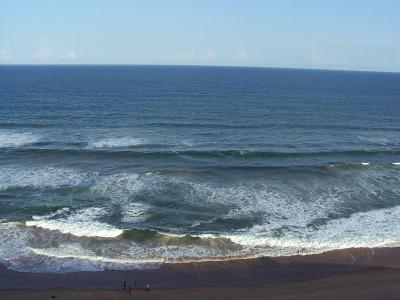 On a bright autumn day, the famous Gopalpur beach in Odisha is a tourist paradise as one's lips feel the salt in the cool breeze wafting in from the Bay of Bengal and its gentle waves splash at one's feet.
But on Saturday, as the sky over this village gets darker, the howling wind stronger and the waves rise higher, the spectre of death and devastation looms large with most inhabitants having fled fearing cyclone Phailin which is expected to make land fall here.
Trees have fallen right on the gates of the Gopalpur police station and on the main road leading to the facility and there is hardly anyone to sort things out even as another gust of wind and rains crashesin , bringing more sturdy things down to the ground.
A narrow 'pucca' road that meanders through this village, with residential buildings flanking it, is dotted with uprooted trees, electric poles, tin sheds and all sundry items used in a household.
The beach area, which has a raised platform for people to frolic in good times, now resembles just a mound of cement with no one wandering near it.
At some distance, near a resort, a few cyclone relief personnel in bright jackets stand watching the murderous rage of the waves which they say are becoming increasingly dangerous and gigantic bit-by-bit.
"We are just here as a precautionary measure. We will retreat if things go beyond control," Sooraj, a volunteer of the squad, said.
The entire beach area, including black-coloured fishermen's shacks, have been emptied with some curious onlookers clicking photographs of the weary look they present.
The village is dotted with a number of temples anda few people are seen taking shelter in them claiming to be volunteers from the rescue teams.
"We are here to help in case of problems," a terse reply from one of them comes without identifying themselves, arousing suspicion that they could be some locals who have avoided eviction by authorities.
The village is divided from Berhampur, on the other flank, by a gated railway track and the two railway gatemen manning it are braving the odds with seemingly no hurry to rush out.
"Mausam kharab hai nikal jaayiye (the weather is bad, you should leave)... we are bound by work, hence we are here. No one should be here," the gateman said.
"It is unfathomable to guess what devastation the severe cyclone will bring to this beautiful beach given that the prelude has been heart-breaking," Bikash Panda, a local who met PTI on the outskirts of the village, said, his voice quivering.
Image: The Gopalpur beach ' Photograph Courtesy: Wikimedia Commons