Rediff.com's A Ganesh Nadar checks out the mood at the AIADMK headquarters in Chennai.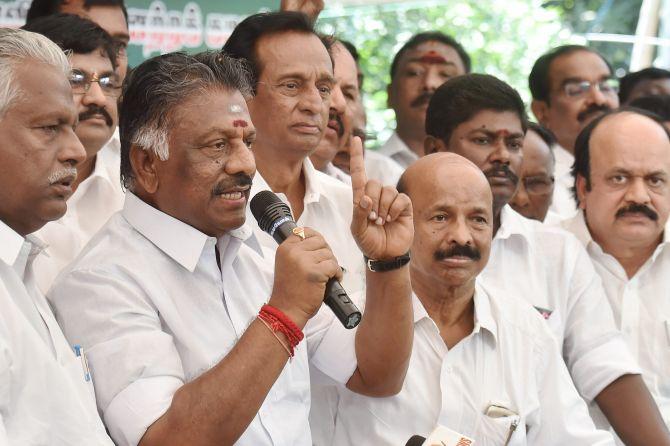 IMAGE: Former Tamil Nadu chief minister O Panneerselvam addresses a press conference at his Chennai home. Photograph: R Senthil Kumar/PTI Photo
Hours before the trust vote in the Tamil Nadu assembly, the All India Anna Dravida Munnetra Kazhagam headquarters in Royapettai, Chennai, is deserted. A Mercedes Benz is parked in the compound, announcing one leader's presence.
To the left of the main building is a stage where party cadres normally assemble to chat. Being lunch time the office is empty, they said, but it was full of party workers in the morning. But no ministers and MLAs had come by.
The ministers are holed up with Chief Minister Edappadi Palaniswami at his home and the MLAs are in Koovathur.
"OPS is a a backstabber, you just see after the trust vote, they will all die of a heart attack inside the assembly itself," spat out one angry cadre sporting a photograph of J Jayalalithaa and V K Sasikala in his shirt pocket.
"It's all the work of two tea sellers who have planned to destroy our party and they are working hard at it," he added.
"Who is the other tea seller?" a lady wanted to know, puzzled.
"Don't you read the papers?" the first one asked. "Our Prime Minister Narendra Modi. Didn't you see them hugging and crying at Amma's funeral? This is all his doing, he has encouraged OPS to revolt and split the party."
"The BJP thinks it will win if the elections are held again," he guffawed as if at the absurdity of what he had just voiced.
"We have to be careful as the only person who will benefit if elections are held again is crooked mouth and nobody else," the first man continued.
The lady looked puzzled again. "But who is crooked mouth?" she wanted to know.
The man sighed deeply. "This is why we have problems in our party, as no one reads, looks, watches, observes. If the AIADMK loses, then who wins?" he asked the young lady.
"The DMK," she replied.
"Yes, so who is the leader of the DMK now?" he asked again.
The lady started giggling at this. "Yes! You are right, I know what you mean now."
"We will win easily on Saturday, there is no doubt. How many fellows does that traitor have?" the first man asked his neighbour. "Eleven, counting the Mylapore MLA who crossed over this morning. Seems like his people told him to support OPS."
"Since when have MLAs started listening to people! They earlier listened to Amma, and now must listen to Chinnamma," he said.
Another party man, a little older than the others, piped in. "But let us not forget that Amma chose OPS not once, but twice to be her dummy chief minister. She did not choose Chinnamma or EPS."
"So what! Did Amma choose him to split the party? Even Chinnamma first chose him. Only when she realised that he was a traitor did she made him resign," the first man said.
As all this was going on a man wearing a striped lungi approached the group to say he was hungry. Someone gave him a 50 rupee note and said, "The canteen lunch costs Rs 40, so please return the 10 rupees to me, that's my bus fare to go home."
The man returned the balance before heading to the canteen, returning in a while looking visibly happy.
So the party did look after its own everywhere, not just in Koovathur where Sasikala has gathered the AIADMK MLAs loyal to her.
"We will win or it will be President's rule," declared the first party cadre.
"Yes, they have the numbers to defeat us, but not form a government on their own," said another.
"OPS will not be chief minister, and that was Chinnamma's sabatham (vow)."