As a loyalist who would run to her with every little matter, he realises it is time he comes into his own.
Business Standard's Gireesh Babu and T E Nrasimhan report from Chennai.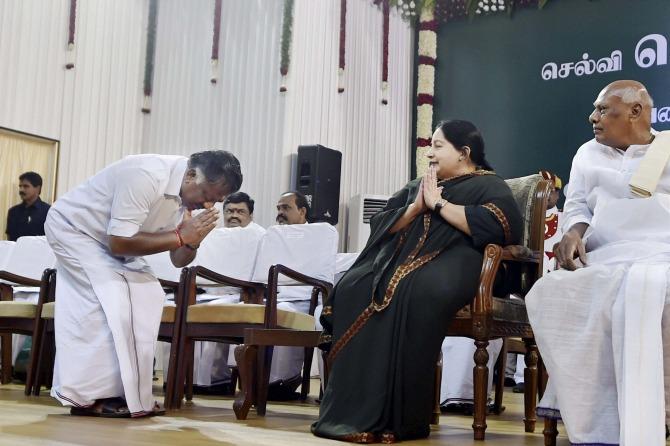 Till the first week of December, the chief minister's profile on the Tamil Nadu government Web site was a rich and detailed account of J Jayalalithaa.
Though silent on her life till she entered politics, it listed her political career, achievements, hobbies and address.
On Thursday, Jayalalithaa's name was replaced by Ottakara Panneerselvam's. His profile ran into three brief columns: Date of assuming office, marital status and the e-mail address of the chief minister's cell.
But then this is how Panneerselvam, 65, has always been — modest and never overtly ambitious.
Here was a trusted aide that the All India Anna Dravida Munnetra Kazhagam chief, the late Jayalalithaa, knew would never be a threat to her.
Soft-spoken, to the extent that people have to often strain to catch what he is saying, and always seen with holy ash and vermilion on his forehead, Panneerselvam had already been chief minister twice, though interim, when Jayalalithaa passed away on December 5. Hours later he was sworn in as her successor.
The man who had wept like a child when Prime Minister Narendra Modi hugged him at Rajaji Hall, where Jayalalithaa's body was kept for the public to pay respects, was calm and composed as he earlier took oath at Raj Bhavan along with the other cabinet ministers.
Panneerselvam is known to always keep Jayalalithaa's picture in his pocket. During his swearing-in, he briefly took out her picture from his pocket and placed it on the desk, while reading the oath.
Panneerselvam belongs to the Mukkulathor community, which is a part of the Thevar caste that has a strong influence in the southern districts of Tamil Nadu.
Jayalalithaa's close aide, Sasikala Natarajan, who is said to be now emerging as the real power centre within the party, also belongs to the same Thevar caste.
Panneerselvam's rise from a tea-shop owner to three-time chief minister of the state has been spectacular.
Born on January 14, 1951 in the Periyakulam town of Theni district, he was the chairman of Periyakulam municipality between 1996 and 2001. His fortunes turned in 1999, when he managed the election campaign for Sasikala's nephew, T T V Dinakaran, in Periyakulam.
It was only a matter of time before he was introduced to Jayalalithaa. The rest is history.
On the two occasions that Jayalalithaa found herself barred from the chief minister's post -- once in September 2001 when she was convicted in a land scam and then in September 2014 when she was convicted in a disproportionate assets case -- Panneerselvam was the one she trusted to take her place.
On the second occasion, some people started equating him with Jitan Ram Manjhi who became the chief minister of Bihar in 2014, allegedly as a stop-gap arrangement in place of Janata Dal-United chief Nitish Kumar.
Only Manjhi refused to resign from the position when Kumar wanted to return as chief minister.
Unlike him, Panneerselvam promptly relinquished the post in May 2015 when Jayalalithaa, was acquitted by the Karnataka high court in the disproportionate assets case.
Now back as chief minister, Panneerselvam has chosen to stay at his government-allocated bungalow on Greenways Road.
Till the evening of December 8, the name-plate outside it continued to identify him as the finance minister of the state. Even the number of security guards, two, hasn't changed.
Jayalalithaa's Poes Garden residence, where Sasikala now lives, could well be the chief minister's house.
Sources say, on December 8, when Panneerselvam went to the secretariat for the first time after taking over as chief minister, he sat in the same office where he did as finance minister.
His first letter was to Prime Minister Modi with a request to allow fishermen devotees from Tamil Nadu to attend St Antony's Church at Katchatheevu.
Unlike in the past, this time the letter contained only one reference to Amma (Jayalalithaa), stating that she had raised this issue earlier.
Panneerselvam, who has three children, is slowly learning to emerge from Amma's shadow.
As a loyalist who would run to her with every little matter, he realises it is time he comes into his own.
That is the only way he can win the trust of his partymen.
IMAGE: O Panneerselvam bows before J Jayalalithaa as then Tamil Nadu governor K Rosaiah looks on.