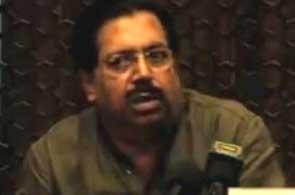 Opposition and members of the Dravida Munnetra Kazhagam in the Joint Parliamentary Committee on 2G on Wednesday demanded the ouster of chairperson P C Chacko for being "highly partisan" and asked Speaker Meira Kumar to replace him with a new chief.
The 15 Joint Parliamentary Committee members -- who belonged to the Bharatiya Janata Party, the Janata Dal - United, All India Anna Dravida Munnetra Kazhagam, DMK, Left parties, Trinamool Congress and Biju Janata Dal -- met the Speaker and expressed "no-confidence" in Chacko on the grounds of his "highly partisan, unfair and prejudicial" conduct and the leakage of the draft report.
The JPC has 30 members, including Chacko.
Members of the Congress, Nationalist Congress Party, Bahujan Samaj Party and Samajwadi Party are supporting the chairperson. Though SP chief Mulayam Singh Yadav has said prime accused A Raja should have been called by the JPC as he wanted to depose, the party does not wish to go to the extent of seeking Chacko's removal.
Amid the opposition's plans to corner the JPC chairman over the clean chit given to Prime Minister Manmohan Singh, the much-talked about meeting of the panel to adopt the draft report was postponed on Thursday, following the death of a Lok Sabha member.
Chacko said that the new date would be soon announced, indicating that it would be possible only next week, as some members have expressed "inconvenience" about attending a meeting on Friday.
The members of the National Democratic Alliance submitted one letter to the Speaker against Chacko while the other parties gave separate letters.
In the letters -- which were formulated by these parties in consultation with each other -- the members expressed their anger at the manner in which Chacko conducted the proceedings. His behaviour has been "unfair, prejudicial and unbecoming of the post to which he was appointed", the letters said.
Members alleged that Chacko has failed in his duty to lead the JPC to bring out the truth.
"Instead he has used the JPC to conceal and subvert the truth," the members said.
They also alleged that the report was leaked to the media before they were given copies of it.
Expressing "no-confidence" in Chacko, these members urged Kumar to immediately replace him. The 15 members later said Kumar promised that she will look into their demand.
This action from the non-Congress members was precipitated due to the cancellation of Thursday's JPC meeting -- due to the death of TMC MP Ambika Banerjee -- in which the report was to be adopted. They had earlier planned to press for a vote on the draft report at the JPC meeting.
The draft report has given a clean chit to Prime Minister Manmohan Singh and Finance Minister P Chidambaram.