Opposition leaders asked all secular forces to field a joint candidate for presidential elections and have common minimum programme to challenge the Bharatiya Janata Party, reports Archis Mohan.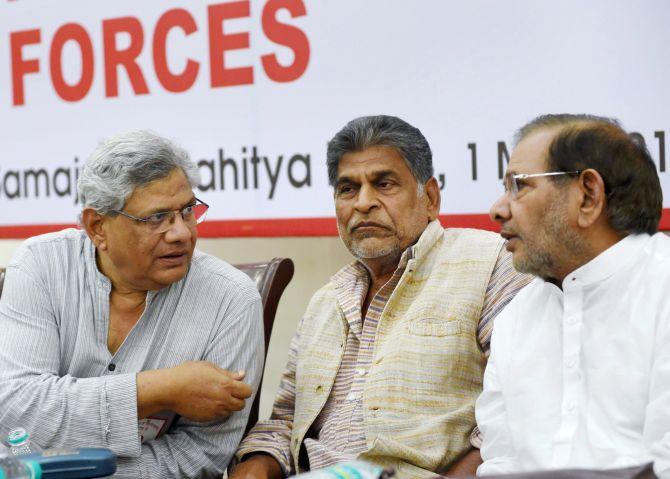 The emphatic win of the Bharatiya Janata Party has led to much churn among Opposition parties, awakening them to the need for unity and even be willing to shed long held ideological positions in a spirit of accommodation.
This was evident on Monday as prominent Opposition leaders met to advocate "unity of progressive forces" to "fight the challenge to the democratic and secular character of the Constitution by the Sangh Parivar."
Leaders like Communist Party of India-Marxist chief Sitaram Yechury said fielding a common presidential candidate would be the acid test of Opposition unity. The Communists have had deep ideological differences with the Congress party and socialists, but Yechury instead recounted the several points of congruence and their shared history.
On issues like 'triple talaq', Yechury said it was arbitrary and all religions should follow a uniform civil code, where not just 'triple talaq' but also abandoning one's wife without 'talaq', or divorce, be illegal.
Congress leader Digvijaya Singh has been one of the most acerbic critics of the Sangh Parivar. But in his speech, Singh indicated that the time has come to embrace the secularism as defined by Mahatma Gandhi, and jettison the secularism of Jawaharlal Nehru.
He said the secularism of Gandhi and of Nehru were distinct.
"Gandhian secularism is more relevant to India," Singh said, emphasizing that it was Gandhi's secularism that had stopped the advance of Rashtriya Swayamsevak Sangh. He said Hindu and Muslim communalism were two sides of the same coin and needed to be fought with equal vigour.
The leitmotif of the politics of Janata Dal-United leader Sharad Yadav has been anti-Congressism. But today, Yadav praised former prime minister Indira Gandhi's foreign policy -- for India's victory in the 1971 war under her leadership and for she having engineered the merger of Sikkim in the Indian union in 1975.
He criticised Modi government's foreign policy. Yadav was one of the thousands jailed during the Emergency that Indira Gandhi had imposed from 1975 to 1977.
The occasion that brought these leaders on the same platrform was an event to mark the 95th anniversary of veteran socialist leader Madhu Limaye, who had been a strong votary of anti-Congressism.
Amid the talk of unity, opposition leaders also issued words of caution.
Congress' Singh reminded that a united opposition had launched a 'grand alliance' against Indira Gandhi in 1971, but were resoundingly defeated. Then, Indira Gandhi had said: "They say banish Indira, I say banish poverty." Singh said the fight wasn't between personalities, but was an ideological battle.
Earlier, Yechury said the first test of unity would be to have a joint candidate for presidential elections.
"First let's achieve this. Then we can talk about the next step," he said. But Yechury cautioned that a 'grand alliance' would fail if it were to focus only on electoral arithmetic. Yechury advocated that progressive democratic forces should sit together to agree on a common minimum programme as evidence of their ideological coherence.
Singh, Yechury and others spoke of how Modi governmnet's policies have led to more concentration of wealth in the hands of the few.
CPI-M General Secretary Sitaram Yechury with Senior JD-U leader Sharad Yadav. Photograph: Subhav Shukla/PTI Photo