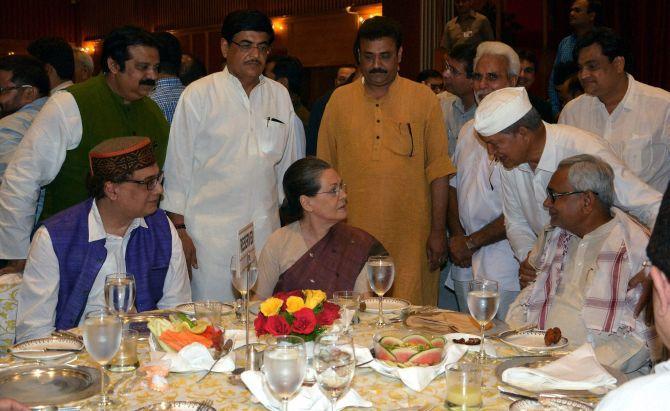 UPA Chairperson Sonia Gandhi with Bihar CM Nitish Kumar and TMC MP Derek OBrien at her Iftar Party in New Delhi on Monday. Photograph: PTI
Although it saw a veritable who's who of the Oppostion leadership, the Samajwadi Party stayed away from the Iftar dinner hosted by Congress President Sonia Gandhi on Monday.
Other Janata Parivar outfits like Rashtriya Janata Dal and Janata Dal-United, including Bihar Chief Minister Nitish Kumar, were prominent among those in attendance.
Neither SP supremo Mulayam Singh Yadav attended the event nor did he depute any of his party leaders for the get together.
A Congress leader said that Yadav wrote a letter to Gandhi earlier in the day informing her that he had to rush to Lucknow for some "urgent work".
Senior Bahujan Samaj Party leader Satish Chandra Mishra was present while Communist Part of India-Marxist leader Mohd Salim made a brief appearance. No other Left leader was seen.
The Iftar dinner saw the Bihar Chief Minister breaking bread with Gandhi. Nationalist Congress Party chief Sharad Pawar was sitting on the same table as also Trinamool Congress leader Derek O'Brien.
Former Jammu and Kashmir chief minister Omar Abdullah, Dravida Munnetra Kazhagam leader Kanimozi, JD-U chief Sharad Yadav and his associate K C Tyagi were also present at the Iftar and were seated alongside Rahul Gandhi.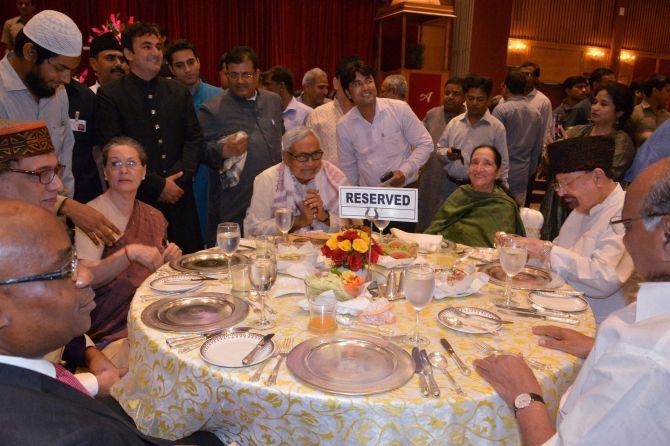 UPA Chairperson Sonia Gandhi with Bihar CM Nitish Kumar, TMC MP Derek OBrien and NCP Chief Sharad Pawar (R) at her Iftar Party in New Delhi on Monday. Photograph: PTI
While RJD supremo Lalu Prasad was not present, he had deputed his party colleagues Prem Chand Gupta and Jaya Prakash Yadav.
Former prime minister Manmohan Singh was present so also senior leaders A K Antony and Leader of the Opposition in the Rajya Sabha Ghulam Nabi Azad.
Party chief ministers present were Tarun Gogoi (Assam), Harish Rawat (Uttarakhand) and Virbhadra Singh (Himachal Pradesh).
"We have a long list of issues to be taken up in the Monsoon session," Rahul Gandhi said in reply to questions but did not specify.
Asked whether there would be floor coordination with other like-minded parties, he said that it was always the case. "And what is this?" he remarked pointing to other Opposition leaders sitting on his table.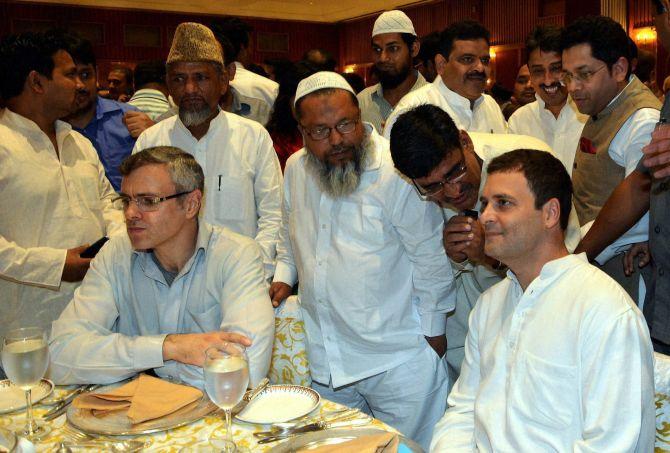 Congress Vice President Rahul Gandhi and former chief minister of Jammu and Kashmir Omar Abdullah at an Iftar party hosted by Congress President Sonia Gandhi, in New Delhi on Monday. Photograph: PTI
Rahul was seen in an animated chat with Kanimozhi and was heard enquiring about the ties between Bharatiya Janata Party and All India Anna Dravida Munnetra Kazhagam.
Pakistan High Commissioner Abdul Basit was among the several foreign diplomats present.