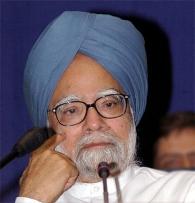 Prime Minister Manmohan Singh's decision not to attend the Commonwealth Summit in Colombo was a loss for Sri Lanka as his absence reflected a breakdown of ties between the two countries, the main opposition said on Monday.
"This is a big loss because if our relationship with our neighbour appears to break down, no one can say it is a good thing," United National Party general secretary Tissa Attanayake told reporters.
Sri Lanka must work towards improving its relations with India, Attanayake said.
"We hope that at least after the CHOGM, the government would work towards improving relations. We see a marked breakdown in diplomacy and foreign policy in dealing with India," he said.
The UNP reaction came following an announcement that Dr Singh will not attend next week's Commonwealth Heads of Government Meeting.
Cabinet spokesman and minister Keheliya Rambukwella said, "It was our responsibility to invite; anyone accepting it or not is their responsibility."
"This is a 54-nation event and we have more heads of state coming than the last conference," he said.
On Sunday, Sri Lanka's External Affairs Minister G L Peiris had dismissed the impact of Dr Singh's absence.
Peiris said Sri Lanka understands the domestic political compulsions which had forced the Indian PM to take such a decision.
Sri Lanka's relations with India on the diplomatic front have soured over the years, exacerbated by India's backing of two United States resolutions at the United Nations Human Rights Council against Lanka for alleged human rights violations during the final stages of the war against the Liberation Tigers of Tamil Eelam.