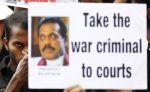 Opposition parties on Thursday charged the government with failing to effectively handle various crucial issues ranging from the condition of Tamils in Sri Lanka to terrorism.
Resuming the discussion on the Motion of Thanks on the President's Address, V Maitreyan (All India Anna Dravida Munnetra Kazhagam) attacked DMK and Congress for handling of the issue and expressed concern over no mention of the issue in the Presidential speech.
He said the US was moving a resolution on the Tamil issue in the UN Human Rights Council and urged the government to support it and "not dilute it like the last time".
"I also urge the government not to take part in the Commonwealth Heads of Governments' Meeting (CHOGM) in Sri lanka," the AIADMK leader said.
Maitreyan said at the end of war in Sri Lanka in 2009, Congress and DMK were in the government at the Centre and did not do anything to stop the war there.
"Congress and DMK are indulging in politics of theatrics and dramatics. They should tender public apologies for their acts of omission and commission in the genocide of Tamils in Sri Lanka," he said.
D Raja (Communist Party of India) said the government cannot leave everything to the US on the Tamils issue and "it will have to vote against Sri Lanka in the UN."
He said the war was fought by Sri lanka with the help of India.
Raja said the Presidential address does not "encourage and inspire" the people.
Devender Goud T (Telugu Desam Party) said the address did not mention the 'dasha and disha' (condition and direction) of the government.
He said the total worth of the scams under the UPA government is over Rs 6.5 lakh crore.
Goud said Hyderabad has become the "hub of terrorists" in Andhra Pradesh and they were carrying out attacks on a frequent basis.
H K Dua (Nom) also took part in the debate.