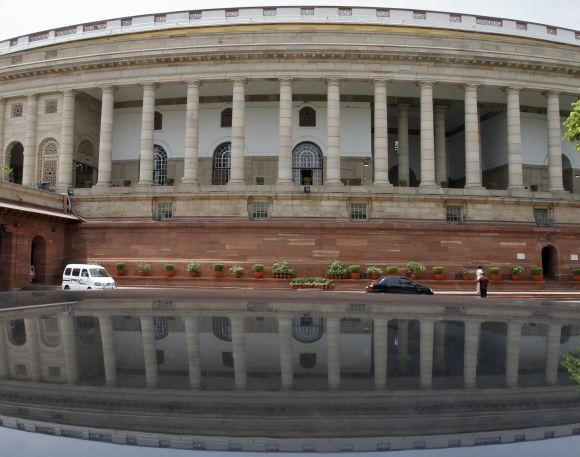 Lok Sabha proceedings were adjourned for a brief period on Monday amid vociferous protests by Congress and Aam Aadmi Party members, including over the issue of Kerala Chief Minister Oomen Chandy being reportedly asked not to attend a function where the prime minister would be in attendance.
Speaker Sumitra Mahajan rejected nearly ten notices for adjournment motion that were given by members from Congress, AAP and Left parties.
As the Question Hour began, the Congress and the AAP's members trooped into the well of the House holding placards and shouting slogans against the government.
The issue of Chandy being reportedly asked to skip a statue unveiling event in Kerala that is to be attended by Prime Minister Narendra Modi tomorrow was raised by the Congress members, who also termed it as a shame to the nation.
Chandy was first invited and then asked to stay away from the function at Kollam in Kerala.
Vellappally Natesan, the general secretary of Sree Narayana Dharma Paripalana Yogam, asked him to skip the event, according to Chandy. Yogam has an alliance with the BJP.
Congress members also protested the killing of a Dalit girl in Punjab.
AAP members protested against the demolition drive undertaken by the Railways in Shakurbasti area of the national capital during which a baby died.
Amid the din, one question related to the Human Resource Development Ministry was taken up but as the protests continued, the House was adjourned after 20 minutes.
Speaker Sumitra Mahajan said protests cannot go on everyday and then adjourned the proceedings till noon.
One of the placards held by Congress members read 'Stop political vendetta'.