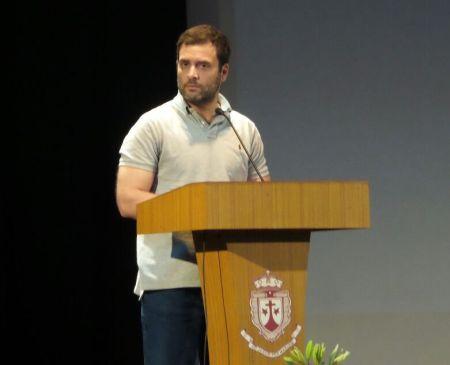 On the eve of Winter session of Parliament, Rahul Gandhi on Wednesday said Congress "strongly" believed in Goods and Service Tax Bill, but government should reach out to the Opposition on certain issues, including the cap on rate.
The Congress vice president outlined the party's stand on the contentious GST Bill even as he made an all-round attack on the Modi government calling it "much worse" than "suit-boot-ki-sarkar."
The National Democratic Alliance government is keen to push key reforms legislations like the stalled GST bill in the winter session.
Fielding questions on a wide range of issues during an interaction with students of a women's college in Bengaluru, Gandhi also spoke on the "rising intolerance", saying it "disturbs" him as an Indian, highlighting that "live and let live" was the country's biggest strength.
Targeting Narendra Modi, Gandhi said he believes the country could be run from the prime minister's office and that he alone could transform the country.
The interaction was the first in the series of Gandhi's outreach to the students across the campuses in the country.
Targetting Modi's style of functioning, Gandhi said there were very few people with decision making powers at the Centre and "one man decides evey single decision."
"...one man can't have all the answers...," he said, adding dialogue was very important.
Asked about GST, which is hanging fire for the last several years, Gandhi said, "we strongly believe in GST."
He said GST and other bills were "very important" but the government's approach has to be one of reaching out to the Opposition.
Speaking to reporters later, Gandhi said the Congress would raise in Parliament the issues of "rising intolerance", which was "very disturbing", GST and also prime minister's "silence" on various issues.
Questioned why the GST bill was being stalled, he said it was Congress which brought it forward and "...we are for GST...we support GST..." But, he noted, the BJP had opposed it and blocked it for three years with Finance Minister Arun Jaitley, then in the Opposition, even justifying blocking Parliament as a strategy.
Gandhi said there were three differences between the BJP and the Congress on GST. They related to cap on tax to be charged, dispute resolution and one per cent tax on inter-state sales (doing away with it).
He said government had to accept the fact that Congress "sits in Parliament", "Congress has a view" and "Congress has 20 per cent hope" (referring to the people's mandate).
Attacking the Modi government for not having "conversation" with the Opposition, he said the prime minister had not even once picked up phone and spoken to any Congress leader, which his predecessor Manmohan Singh used to do.
Asked about debate on "rising intolerance" particularly in the context of controversial remarks of Bollywood superstar Aamir Khan, he said "blanket attack" does not give any solution. "Shouting at people is very easy" but "much more powerful" thing would be listen to someone."..let us have conversation."
"I don't like what is happening on intolerance. It disturbs me as an Indian," Gandhi said.
A student asked Gandhi about his frequent "suit-boot-ki-sarkar" jibes at the Modi government, questioning what was wrong with "suit and boot ki sarkar" as long as it took steps to improve the economy.
Faulting the government for the "way it was operating", he said Modi had promised creation of two crore jobs a year.
"It is perfectly okay" if the government focussed on large businesses and produced jobs but the benefits should reach the poor.
But the government had slashed expenditure on welfare schemes, including on education and health care, he said.
All that the government was doing was giving contracts to large business people, that too five or six corporates close to the dispensation, which was "much worse than a suit-boot-ki-sarkar. It is 5 or 6 suit boots ki sarkar".
He said the economy was in the doldrums and the country was not moving. "Suit-boot-ki-sarkar is failing.. it has completely failed..."
Gandhi said a group of foreign investors had met him recently and he asked them if they were happy with the Modi government. They had told him that "nothing has happened" and "it is not working."
In his opening remarks, Gandhi said the central difference between the BJP and RSS and Congress was that his party wanted to speak to every single person even with whom it does not agree. But they did not believe in conversation.
Gandhi raked up the prolonged strike by Film and Television Institute of India students over the appointment of Gajendra Chauhan as its Chairman, saying they were told to "shut up", Dalit children "being called dogs" by a Union minister (V K Singh) over the Haryana incident and the Dadri killing over beef eating rum
Image: Rahul Gandhi speaking at the event. Photograph: OfficeofRG/ Twitter