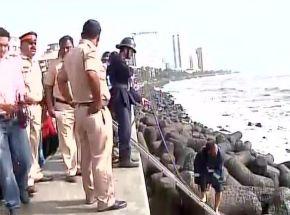 A 20-year-old youth lost his life while another was injured after they were swept into the sea by huge waves that lashed the promenade at the city shore on Sunday.
According to Municipal Corporation of Greater Mumbai officials, the two brothers were swept into the waters at Marine Drive in South Mumbai on Sunday afternoon, as they ventured into the area despite a warning by the civic body to the residents to stay away from the sea.
"The two brothers were on the promenade, dangerously close to the waters in Marine Drive, when the tragedy took place. The 20-year-old youth lost his life, while his 17-year-old brother sustained minor injuries, since he was rescued on time," said an official.
The officer added that the brothers were taken to Gokuldas Tejpal hospital in South Mumbai, where the injured has been administered first aid.
Last week, the authorities had issued an alert that tidal waves higher than 4.5 metres were likely to hit Mumbai shorelines and also warned Mumbaikars against venturing near the sea. They added that six teams have been formed for sensitive areas in the metropolis, each comprising members of fire brigade personnel, National Disaster Response Force and lifeguards. Comprising of 15 members each, these teams have been deployed in areas like Girgaon, Dadar, Juhu, Versova, Aksa beach, Gorai beach and Chowpatty.
Image: Officials carry out a rescue operation to fish the boy out of the water. Photograph: ANI/Twitter