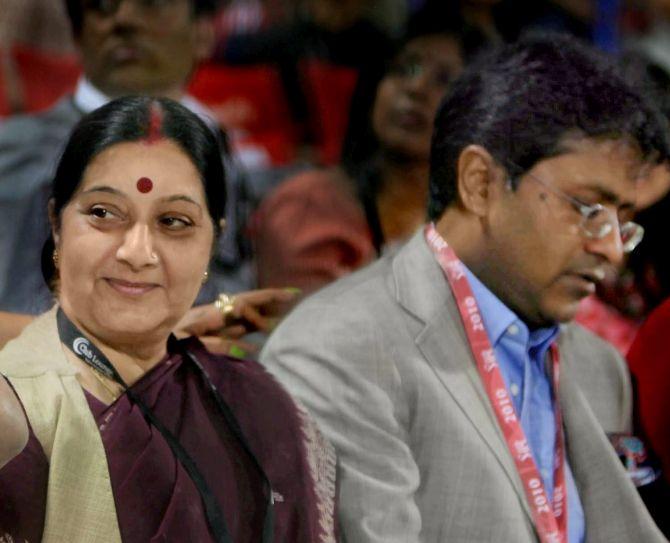 On Sunday, External Affairs Minister Sushma Swaraj was at the centre of a major row over helping scam-tainted former Indian Premier League chief Lalit Modi to obtain British travel documents
Facing opposition attack, Swaraj said, "What benefit did I pass on to Lalit Modi - that he could sign consent papers for surgery of his wife suffering from cancer? He was in London. After his wife's surgery, he came back to London. What is it that I changed?"
She also reportedly spoke to Prime Minister Narendra Modi explaining her position on the issue.
Opposition parties demanded her resignation, alleging grave impropriety on her part in helping a fugitive from law. Congress questioned even the role of the PM as to whether her action had his "tacit" endorsement.
Contending that the PM's role was under a "cloud of suspicion", Congress posed 11 questions to him, including "what happens to transparency and non-corruption" promises made by him.
However, the government, the Bharatiya Janata Party as well as Rashtriya Swayamsevak Sangh, strongly "justified" Swaraj's action and rejected resignation demands. Home Minister Rajnath Singh and BJP chief Amit Shah asserted that she had done no wrong and only acted on "humanitarian" grounds.
The government support was expressed after Home Minister Rajnath Singh met the Prime Minister.
Amit Shah said, "There were no moral grounds involved. The help was based on humanitarian grounds."
The genesis of the controversy was disclosure of e-mails showing that she had spoken to Indian-origin British MP Keith Vaz and its high commissioner James Bevan favouring the grant of travel documents to Lalit Modi to go to Portugal, purportedly for his wife's cancer treatment in June last year.
Modi, who is wanted in India, has made London his home since 2010 to avoid a probe for alleged foreign exchange regulation violations in the T20 cricket tournament held in South Africa in 2009. The previous United Progressive Alliance government had revoked his passport and had pressed for his extradition.
According to British media which quoted leaked e-mails, Vaz cited Swaraj's name to put pressure on UK's top immigration official to grant British travel papers to Lalit Modi, who subsequently got the documents in less than 24 hours.
Vaz also offered to help Swaraj's nephew Jyotirmay Kaushal to apply for a British law degree course, the report said.