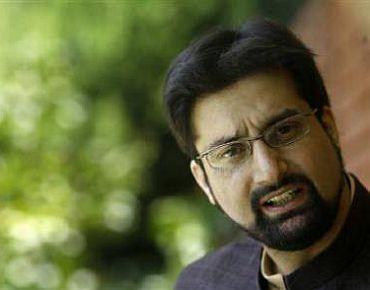 All Parties Hurriyat Conference Chairman Mirwaiz Umar Farooq has accused the Jammu and Kashmir government of outsourcing the handling of the state to security agencies and is treating it as law and order situation than a political one.

"After the execution of parliament attack accused Afzal Guru last month, we have not been allowed to move out of houses barring the time that I spent in Delhi. An incident takes place and curfew is imposed in the entire valley," Miwaiz told rediff.com from his residence in downtown Srinagar on Wednesday.

Talking about Chief Minister Omar Abdullah who broke down after he heard that the Rashtriya Rifles personnel posted in Baramulla had shot dead 24-year-old Tahir Ahamad Sofi a social worker, he said, "
It is true that he was emotional. This makes it evident that he is not longer in-charge of the state, and he should quit," he said.
The APHC chairman felt that such an action will send a strong signal to the Centre.
"Instead of resorting to unprovoked and indiscriminate, the government should be talking to us to resolve the Kashmir issue. More tourists in the valley do not mean that normalcy has been restored. National Conference leader and the chief minister's uncle Musfa Kamal has expressed his anguish about Sofi's killing. Even Bhim Singh's Panther's Party workers are upset about, and now asking for Azadi," Mirwaiz said