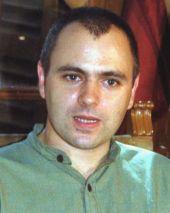 Jammu and Kashmir Chief Minister Omar Abullah was summoned by Prime Minister Dr Manmohan Singh and Congress president Sonia Gandhi on Monday and pulled up for not including the 73rd and 74 amendments in the Panchayati Raj despite the fact he had earlier  committed to do the same.
After his return to Srinagar, Omar called for an emergency meeting of his Cabinet government and approved to include the 73rd amendment.
A senior National Conference leader, wishing not to be quoted by name, said the decision to incorporate all provisions of the 73rd amendment of the Indian Constitution into the State's Panchayat Raj Act (1989) and to cancel the Block Development Council polls was the result of a 'coalition compulsion'.
"Though we were ready to incorporate all provisions of 73rd amendment into the existing Panchayat Raj Act, the reservation for Schedule Tribe, Schedule Cast and Women had become a bone of contention between the alliance partners," the NC leader said.
He said after thorough deliberations, the core group of the ruling dispensation finally agreed to cancel the already announced BDC polls.
Jammu and Kashmir governor N N Vohra is likely to issue an ordinance soon. He had sent the state administration into a tizzy by raising questions on ordinance cancellation of the BDC and had asked Omar to reply to the query.
Meanwhile, over 33,000 parpanches and panches denied that the Omar government has delegated more powers to pnchayats as demanded by the Congress.
The Congress on the other hand wanted that the 73rd amendment should be included in the panchayati raj system, since it was dear to former Prime Minister Rajiv Gandhi.
"No powers have been given to panchayats. He is misleading the Congress as well as the people. Powers delegated can be taken away at any point of time. If anything has happened it is because of Congress general secretary Rahul Gandhi," said Shafique Mir, a panch from Poonch in Jammu division who led a 10-member delegation to meet Rahul in Delhi.
Reliable sources said the ordinance was forwarded to the governor soon after it was approved in the State Cabinet on October 15.
According to sources, the governor's contention was that the Cabinet could have cancelled the notification issued for the conduct of the BDC polls without bringing in the ordinance.
"However, this contention was not legally tenable," official sources said.