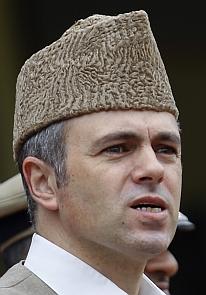 Jammu and Kashmir Chief Minister Omar Abdullah while congratulating the former Pakistan prime minister Mian Nawaz Sharief for his electoral victory, reminded him of the initiative he took during his earlier premiership to restore friendship with India.
"It is an important day for people of Jammu and Kashmir as the elections were held in Pakistan and Sharief is emerging as victorious. I congratulate Mian Sahib on behalf of people of Jammu and Kashmir, my government and myself and hope that he would carry forward the process of restoring peace and friendship with India and work for resolving the K-issue," Omar said this while addressing a public gathering in Pattan in north Kashmir.
Omar also appealed Prime Minister Dr Manmohan Singh to extend a hand of friendship to Sharief for resolving all outstanding issues including those pertaining to Jammu and Kashmir as former Prime Minister Atal Bihari Vajpayee extended friendship to the then Pakistan President General Parvez Musharraf.
He said, "Unless friendship and peace is restored between the two countries, the basic political issues cannot be solved amicably."
The chief minister said the 'friendship between the two countries is in the larger interest of people of Jammu and Kashmir and the sub-continent'.
"Guns cannot be described as good or bad guns; guns are always responsible for bleeding and killing. Let gun-culture ends once for all. Let peace prevails. Let issues are resolved amicably across the table," he said.
"We have seen how much damage guns have caused to Pakistan. The people in Pakistan have undergone an unfortunate phase of killings and sufferings due to gun in similar way as the people of Jammu and Kashmir experienced during a long period of militancy for over 22 years," he maintained and expressed hope that peace will prevail.
Welcoming the successful completion of general elections in Pakistan opposition Peoples Democratic Party patron Mufti Mohammad Sayeed on Sunday expressed the hope that "establishment of a stable and liberal government in that country would help pick up the threads of peace process once again".
In a statement, he said, 'A democratically elected stable government in Pakistan was a critical element in carrying forward the peace process and Jammu and Kashmir had the highest stake in its revival."
Complimenting the people of Pakistan for giving democracy a big boost by voting in large numbers in an atmosphere marred by threat of violence, Mufti said "It augured well not just for the interests of that country but could as well impact Indo Pakistan relations in a positive manner."
He said Sharief has been one of the architects of composite dialogue between the two neighbours and his return to power has raised hopes of an earnest and sincere follow up to the initial progress made on it.
Referring to his recent meeting with prime minister, Mufti said he had got an impression that a successful conclusion of elections in Pakistan could facilitate revival of dialogue and implementation of CBMs specific to Jammu and Kashmir.