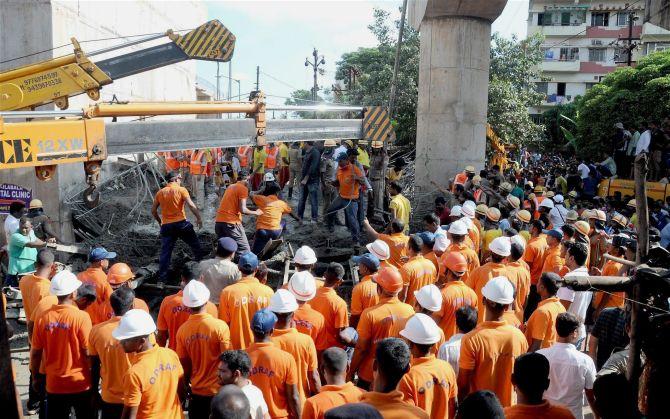 A portion of an under-construction flyover collapsed near Bomikhal in Bhubaneswar, killing at least one man and injuring 11 persons, official sources said.
About three-four persons were suspected to be trapped under the rubble, they added.
Around 15 labourers were working on the flyover when the structure collapsed on them in the afternoon.
Chief Minister Naveen Patnaik expressed grief at the incident and announced Rs 5 lakh ex gratia for the next of kin of the deceased and free treatment for the injured.
"An exemplary punishment will be meted out to those found guilty," he said.
Satya Patnaik, a 39-year-old businessman, was killed as he, along with his daughter Sheetal, was under the flyover when it caved it, Revenue Divisional Commissioner (RDC), Central Division, A B Otta told reporters.
Satya's daughter was seriously injured and admitted to the AIIMS, Bhubaneswar, the RDC said.
The rest of the injured have been admitted to the Capital Hospital, AIIMS and various other hospitals.
Police, fire brigade and Odisha Disaster Rapid Action Force (ODRAF) personnel have been engaged to carry out the rescue operation. Earth-movers are being used for the purpose.
The chief minister said two engineers had been suspended in the aftermath of the flyover collapse.
"I have already ordered an inquiry into the matter. It is certainly a major mistake on the part of the contractor. The job was assigned to Panda Infrastructure," Works Department Secretary N K Pradhan said.
He added that strict action would be taken against those found guilty.
Pradhan said rescuing those trapped in the debris was the first priority of the state government.
The flyover project, he said, was under the Roads and Buildings (R&B) Division-4.
"A portion of the flyover caved in when we were busy plastering its roof. We had started work at around 8 am," said an injured worker, who was undergoing treatment at the Capital Hospital.
Police Commissioner Y B Khurania and senior officials are monitoring the rescue operations.
IMAGE: NDRF, ODRAF and Police carrying out rescue works after a portion of an under-construction Railway overbridge collapsed in Bhubaneswar on Sunday. Photograph: PTI Photo