With as many as 82 bodies of victims of the Balasore train crash which occurred nearly a week ago remaining, Odisha government Thursday held discussions with the officials from West Bengal, Bihar and Jharkhand seeking help in early identification and disposal of the human remains preserved in Bhubaneswar.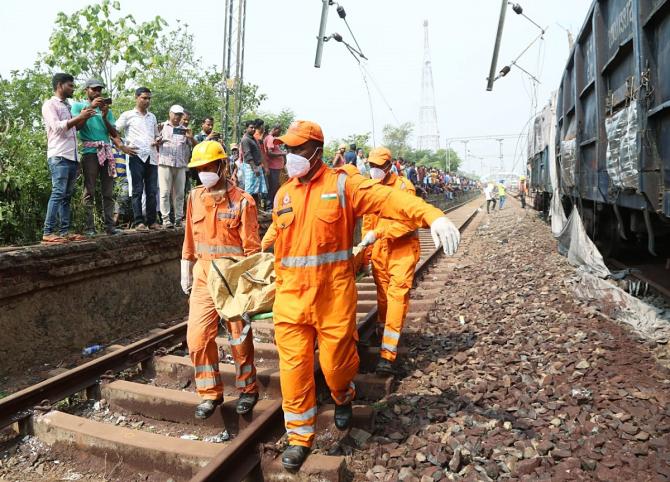 Bhubaneswar Municipal Corporation commissioner Vijay Amruta Kulange said, "We are also coordinating with other state government officials to verify the claimants and speed up the identification process."
Kulange also said that the BMC is coordinating between Railways and AIIMS Bhubaneswar. He said the officials of West Bengal, Bihar, Jharkhand and Chhattisgarh have been requested to help expedite body identification.
"A control room has been set up to assist relatives of the victims. Food and lodging facilities are also being provided to people coming to receive bodies," he added.
AIIMS Bhubaneswar said out of the 162 bodies kept at the institute, 80 bodies have been handed over to the families of deceased persons while 82 other remain unidentified.
What has come as a problem is that some bodies are being claimed by multiple families, Therefore, DNA sampling is the only scientific process left for handling over the bodies.
"We have collected about 50 DNA samples. In the first batch 29 samples were sent to AIIMS Delhi and its test reports are expected within two more days. Once the DNA report reaches her, we can give some of these bodies to their rightful family," an official of AIIMS Bhubaneswar said.
BMC Mayor Sulochana Das said, "The bodies are preserved at below minus 18 degree Centigrade in containers and there is no fear of further decay.",
Meanwhile, Srikand Dey, a resident of Kuchvihar in West Bengal, alleged that his son's body numbed 14 among the dead bodies, has been handed over to a family in Bihar.
"The officials told me to undergo DNA testing and I have done so. But, before the DNA report came, the body has been handed over to some other," he alleged.