The Indian community said that the prime minister surpassed all of their expectations.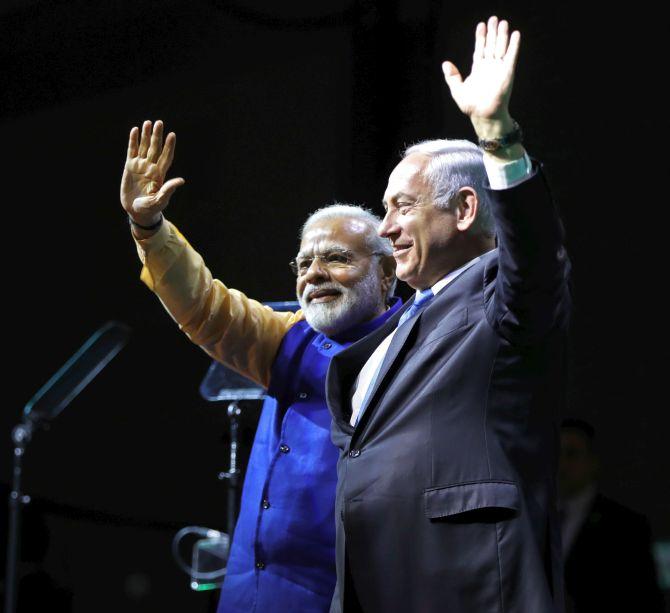 IMAGE: Prime Minister Narendra Modi and Israeli Prime Minister Benjamin Netanyahu wave to the crowd during a reception for the Indian community in Israel. Photograph: Ammar Awad/Reuters
Indians in Israel, especially Jews, have expressed "joy" with Prime Minister Narendra Modi "surpassing" their expectations in addressing some of their key concerns and making them feel proud of their roots.
"I was almost in tears. We knew that Prime Minister Modi has tried to invigorate the Indian diaspora across the world and make them feel proud of their roots. He has connected so well with them everywhere he has gone and has not forgotten to reach out to them," Yona Maliker, who immigrated from Seoni, a place near Nagpur, 33 years ago, said.
"It was joy beyond belief to hear at the way he passionately talked about our connection with our motherland. It is a historic visit the Indian Jews will remember for a long time," Maliker said.
Modi "touched the nerve" of all Indian communities living in Israel by bringing up stories that they could relate to.
"He had something cheerful to say about the Bene Israel, the Cochinis, the Baghdadis, the Bnei Menashe but also did not disappoint Indian students and a small group of caregivers who work in Israel," Brajesh, a student from Bihar at the Hebrew University noted.

The prime minister touched our hearts with the words he used while extending us this (OCI card) gift
"Extending the Overseas Citizen of India cards to all Indians in Israel, irrespective of their army service, is the 'biggest gift' I think he could give us and he didn't disappoint," Sybil Ezekiel, who immigrated to Israel from Kolkata in 1970 where she studied at Jewish Girls School, he said.
Prime Minister Narendra Modi had announced on Wednesday that people of Indian origin in Israel will get the OCI cards even if they have undergone the compulsory army service in the country.
"I want my children and my nephews and nieces, who all take pride in their Indian descent to stay connected to our roots. Everybody in Israel has to serve in the army and that cannot be the reason for denying them OCI. The prime minister touched our hearts with the words he used while extending us this gift," she said.
Sam Satamkar, a 70-year-old Indian Jew of Bene Israel, who came all the way from Beersheva in southern Israel said that the Indian Premier "surpassed" all expectations by even going ahead to make an announcement regarding opening of an Indian Cultural Centre in Israel.
Noah Massil, who was the founder President of Organisation of Indian Jews in Israel and the editor of a Marathi journal, Maiboli, a magazine that was referred by Modi in his speech, was "overwhelmed" at the announcement regarding the Indian cultural centre.
"We have reached out to Indian and Israeli authorities regarding the creation of such a thing and pursued it for many years. Prime Minister Modi has fulfilled a long cherished dream which will help keep our next generation engaged with our motherland," Massil said.
A lot of Indian Jews, who attended Prime Minister Modi's event on Wednesday, said the way the Indian premier went around talking about the Indian Jews has helped "raise their stature" and "made them feel proud".
"We always took pride in our roots. We always tried to tell everybody that ours was the only country that never discriminated against the Jews. Our ancestors lived there in harmony with respect," David Nagani, a bus driver in Jerusalem from the Bene Israel community, said
"But people hardly listened to us because India never came out in the open so strongly regarding its ties with Israel and the diplomatic relations were established so late," he said.
"Suddenly, Prime Minister Modi comes here. Our PM Benjamin Netanyahu extends him the welcome never given to any world leader. And everybody seems to hear us," he said.
Israeli Prime Minister Benjamin Netanyahu, who also accompanied Modi during his meeting with the Indian community, said, "Prime Minister, these are the Jews of India. They love India, they love Israel. They love our friendship."
"There was a time, a few decades ago and a few years ago, when this natural partnership was somehow frozen. There was a young woman, her name was Tzipora Meir, a young Jewish woman in Cochin. She wrote an essay 50 years ago, just before the Six Day War, and the essay was the deep desire she had to see the partnership between India and Israel," Netanyahu said.