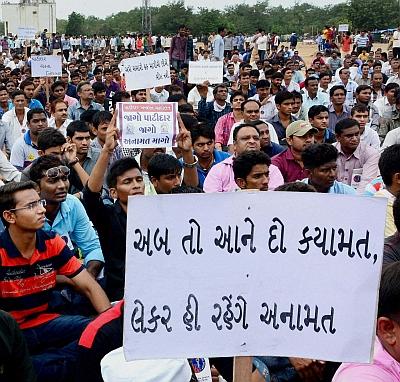 A demand to be included in the Other Backward Classes quota by the Patidar (Patel) community could intensify.
Having held rallies in north Gujarat and Saurashtra, the newly formed Patidar Anamat Andolan Samiti, leading the stir, is preparing for a massive rally in central Gujarat within a fortnight. Members of the community, have been holding massive rallies in various parts of the state for sometime now. One of these in Mehsana district, hometown of Chief Minister Anandiben Patel, turned violent.
According to Hardik Patel, convenor of PAAS, the stir has support from 3.5 million community members, even as the agitation plans to attract support from close to 10 million by the end of this month.
"We are planning to intensify our stir and planning more massive rallies in other parts of the state, including major cities like Ahmedabad. Local politicians, too, have been extending support, though this is a non-political agitation. We plan to attract support from close to 10 million community members," Patel said. The state government has been more or less silent on the issue.
Chief Minister Anandiben Patel, state BJP chief R C Faldu, 37 members of the assembly and six ministers are Patels.
However, the BJP-ruled government in the state has chosen not to support the agitation. The community, which forms 20 per cent of the state's population, is of the view that despite the popular belief that it was a wealthy community, over 40 per cent were not financially well-off.
The agitation has attracted large numbers of youth. While both Leuva Patels and Kadva Patels have joined the agitation, the stir has seen more success in central Gujarat due to considerable population of Leuva Patels.
Image: Members of Patidar Patel community holding a protest demanding reservation in education and government jobs in Gandhinagar. Photograph: PTI Photo