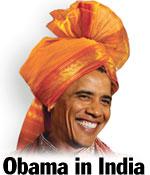 United States President Barack Obama will be in India November 6–9.
The President and First Lady Michelle Obama will reach Mumbai early on November 6 and spend two days at the commercial capital, before heading to New Delhi for diplomatic and State engagements.
In Mumbai, the President will stay at the Taj Mahal Palace hotel and is scheduled to visit Mani Bhavan. He will also celebrate Diwali in a Mumbai school and will hold a town hall meeting in a city college.
We know the chances of running into the President are pretty slim, what with his massive security detailing, but still, just in case you bump into the President or the First Lady while they are here, what will be the one thing you will tell them?
Leave your responses in the comments section below.