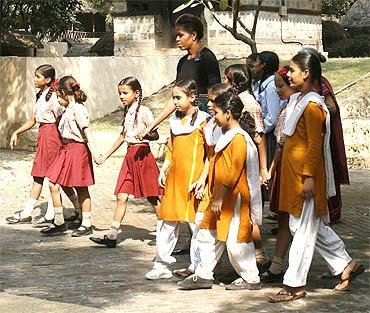 Michelle Obama hits it off yet again with children, reports Sahim Salim.
Though she does not speak a word of Hindi, Michelle Obama struck an instant chord with school children who waited for over three hours to meet her at the National Crafts Museum on Monday.
Dressed in a forest green skirt and a black blouse, Michelle arrived at the museum with United States Ambassador Timothy Roemer's wife Sally, after paying her respects to Mahatma Gandhi at Rajghat with her husband Barack Obama.
Michelle looked comfortable and relaxed as she entered the museum to a chorus of namaste from the schoolchildren, some who have travelled from as far as Amristsar.
These children, aged between 10 and 13, were brought from Delhi, Gurgaon and Ganga Nagar by various NGOs, which are helping them in their education.
Aditya Dayal of Nanhi Chhaan, a NGO, said since President Obama could not make it to Amritsar as planned earlier (he canceled his visit to the Golden Temple), Amritsar came to his wife.
"These children are from a school in Kila Jivan Singh village in Amritsar. They are here because Mrs Obama wanted to meet some children from Amritsar," Dayal said.
After greeting the children, Michelle seemed completely at ease with them and walked around the museum, either holding the hand of a child or with her hand on their shoulder.
"Do you like studying?" she asked them. After Museum Director Ruchira Ghose translated her question for the children, a collective roar of "yes" was heard.
Michelle was escorted around the museum, which depicts village dwellings, courtyards, shrines and handicrafts from across rural India. Her first stop was the replica of a gateway to a Rajasthani haveli, from where she was taken to a Rajwar hut from Madhya Pradesh. She was then escorted to the 100-year-old Telangana scroll, which tells the story of King Jambavanta, the son of Lord Vishnu.
She was then taken to the domed Chabutra (pigeon house) of Gujarat, which also houses the Shakti exhibit representing divine feminine energy. Michelle showed special interest in an 19th century wooden sculpture of Goddess Durga and remarked to Ghose that the Goddess depicted women power.
Her next stop was the village complex, which showcased village scenes and dwellings of Arunachal Pradesh, Himachal Pradesh, Madhya Pradesh, Gujarat, Rajasthan, West Bengal, Tamil Nadu, Orissa and the Andaman and Nicobar islands.

Here Michelle interacted with the school children, asking each of them their names and age. The children looked very comfortable around her.
An excited student Abida told Rediff.com, "She held my hand for a long time. She is so nice."
Michelle spent nearly half an hour at the complex and was taken to her final stop at the marketplace. She personally visited all the craftsmen there and greeted them with a namaste.
Ramaiya Tangaiya, a craftsman from Tamil Nadu who practices terracotta art, told Rediff.com, "She is such a nice lady. She is so powerful, but she came inside our shop with folded hands and a namaste."
Chenimai Doley, a craftswoman from Assam, who specialises in artistic and tribal crafts, said, "All the artisans here have been preparing ever since we got the news that the First Lady would be visiting. We have put our best items on display."
Each month, the museum invites over 50 craftsmen from across rural India and gives them a chance to showcase their craft at the marketplace.
Also See: What Michelle told the kids in Mumbai, read all about it on Rediff.com
Image: US First Lady Michelle Obama walks with a group of schoolgirls as she visits the National Crafts Museum in New Delhi | Photograph: Vijay Mathur/Reuters