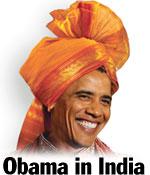 United States President Barack Obama has a packed schedule in Mumbai and his visit to New Delhi, which will kick off from the evening of November 7, will be no different. Receiving Obama and US First Lady Michelle at the Indira Gandhi International Airport will be none other than Prime Minister Dr Manmohan Singh and his wife Gursharan Kaur.   
From the airport, the Obamas will head straight to Hotel Ashoka to attend a dinner hosted by Dr Singh. However, this all-important dinner may bring a little disappointment to mediapersons, as barring a few prominent journalists the hotel with be out of bounds for a majority section of the press.      
November 8 will be another hectic day for Obama, which will start with a ceremonial welcome at the Rashtrapati Bhavan, following which he will head to Raj Ghat to pay respect to Mahatma Gandhi.
From there, the American president will hold an official meeting with Dr Singh and his aides at the Hyderabad House. This will be followed by a joint press conference by Dr Singh and Obama.      
Obama will also hold a delegation-level meeting with top politicians and business tycoons at the Hotel Maurya Sheraton, where he will stay during his Delhi visit, before he visits the Parliament to address a joint session of the Lok Sabha and the Rajya Sabha.
His day will attend with a banquet dinner hosted by President Pratibha Patil at 8 pm at the Rashtrapati Bhavan.