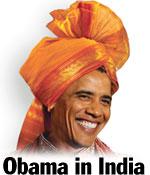 As the media goes gaga on what US President Barack Obama should or should not have done in India, Air Chief Marshal (retd) Fali S Major, who was in charge of operations during the time of the 26/11 attacks, tells rediff.com that it is silly to tell a visiting President what he should or should not be doing.

The retired Chief of the Air Staff says, "I think it is time India starts to fend for itself. Are we by any chance expecting Obama to say that he hates Pakistan? The world hates that country and it is not required for us to wait for Obama to state the obvious."

"Going by all the reports appearing, I think it is a little too early for us to judge Obama's visit. He has just come in and we are already expecting a lot from him. Let us wait for him to reach New Delhi where the real issues will be discussed."

"With regards to security scenario, there is nothing that has been discussed as yet. What the future regarding security would be depends on what happens at New Delhi when he (Obama) meets Prime Minister Manmohan

Singh. There are one-on-one meetings that have been scheduled at the national capital and these meetings will be crucial and one can judge him only after that is completed. At the moment it is a bit immature for all of us to pass remarks and come to conclusions."

"There are ongoing deals with the United States. There are issues on certain conditionalities and that would become clear only once the final press conference is done in New Delhi. We need to wait for the exact text of that statement before we can make any statement since these issues are extremely critical and matters not to be taken lightly by speculating."

"With regard to Pakistan, I think it is high time we start to fend for ourselves. Why do you want an Obama to say something about Pakistan? Do you want him to say that he hates Pakistan? The world has been saying that and there will be nothing new in him saying the same. Let us start to take care of ourselves and not expect someone to come and make statements for us. The more important thing with regard to Pakistan is that we should know what we are doing. Let us bear in mind that we cannot tell a visiting President what he should or should not be saying."