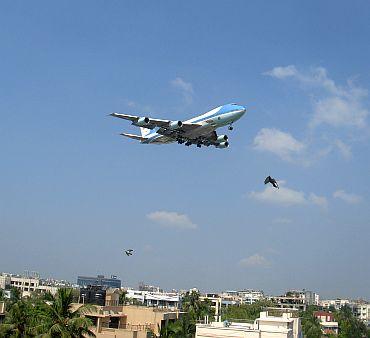 US President Barack Obama arrived in Mumbai on Monday on the first leg of his three-day visit that will seek to focus on opening up of Indian markets for American businesses and deal with wide range of political issues, including strategy on counter-terrorism.
The Air Force One carrying Obama and his wife Michelle touched down at the Chhatrapati Shivaji International Airport in Mumbai at 12:50 pm.
Obama and his wife walked down the ladder to a red carpet welcome and were received by Maharashtra Chief Minister Ashok Chavan who presented him a coffee table book on Mumbai as a memento. 

The other dignitaries who received him on the tarmac were Union Minister for Minority Affairs Salman Khursheed, who will be the minister-in-waiting, Indian Ambassador in the US Meera Shankar.
On sighting the US Ambassador in India Timothy Roemer in the reception line, the President gave him a spirited hand-shake and the envoy gave him a warm embrace. The Obama couple exchanged a few pleasantries with the Roemers before walking briskly to Marine One which too them to INS Shikra from where he would be driven down to the iconic Taj Hotel.
The third US President to visit India in the last 10 years and sixth in all, Obama will make a powerful statement against terrorism at the Taj, one of the targets of the 26/11 terror attacks in 2008.
He will sign the visitor's book and later address a gathering to commemorate the memory of 166 people who were killed in the attacks engineered and orchestrated by Pakistan-based terror groups.
In all, five Americans killed in that 60-hour mayhem that also targetted Trident Hotel, CST Terminus, Chabad House and Cafe Leopold. Of the five Americans, three were killed at Trident Hotel and two at the Chabad House.

Obama will also visit Hotel Trident where he will address CEOs and US-India Business Council meeting. He will also visit Mani Bhavan, from where Mahatma Gandhi launched several stages of the freedom movement, and pay homage to the Father of the Nation.
ON  Sunday, Obama will celebrate Diwali in a children's home and then witness an agriculture exposition before leaving for Delhi in the evening. In Delhi, Obama will visit Humayun's Tomb on Sunday evening and will attend a private dinner to be hosted by Prime Minister Singh at his residence.
On Monday, the President has a heavy schedule when he will hold talks with the Prime Minister in which the two sides will discuss steps to take the relationship qualitatively to a new high.
The talks are expected to focus on issues with dual use technologies, terrorism, strengthening economic ties, cooperation in security, defence and agriculture and regional matters like the situation in Pakistan.
One of the highlights of his engagements in Delhi would be his address to members of Parliament on Monday evening before attending a banquet hosted by President Pratibha Patil.

Image: Air Force One moments before it touched down at the Chhatrapati Shivaji International Airport.
Photograph:Sumit Rajwade/Rediff.com