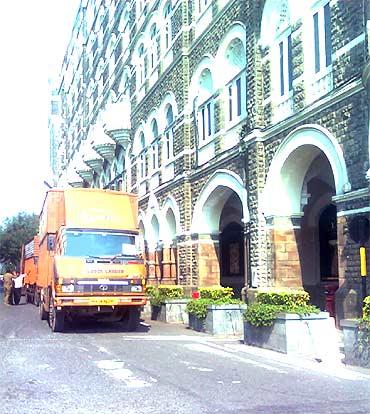 Vaihayasi Pande Daniel comes across US President Barack Obama's advance team in the sleepy backlanes of Colaba in Mumbai
At 7.25 am, morning walkers/joggers at the Gateway of India were startled by the quiet arrival of a lengthy cavalcade, importantly flashing yellow and blue lights.

Consisting of some 10 vehicles -- Mumbai police escort vehicles, an American consulate 26CC-licensed car, a Mercedes bus and five to seven nearly identical trucks -- it slowly inched its way around the heritage wing of the Taj Mahal Palace and Tower and drew up at the hotel's main entrance.

This is quite obviously United States President Barack Obama Advance Team.


But a casual query to a young American handling the unloading was met with a guarded assessment and then a categorical "No, no," a demeanour that clearly brooked no further curious questions.

The trucks, which all belong to GeeTee Travels of Saki Naka, Andheri East (in Mumbai's north-western suburbs), with the help of the Taj Hotels senior staff including the unmistakable General Manager Karambir Kang, were parked up near the garden that is home to the statue of Chhatrapati Shivaji Maharaj, a few furlongs from the giant assortment of beggars and waifs that treat this pavement as home. The vehicles are said to contain some of the tonnes of technical equipment required for the US Presidential trip.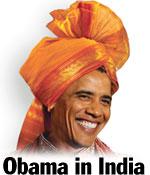 And from the Mercedes bus, also a GeeTee vehicle, the 20-25 American team members disembarked and poured into the hotel that is now surrounded by a fresh set of seven-feet-high iron barricades.
An hour or so later, the technical equipment was being unloaded at the side entrance of the hotel with a pitchfork under hawkish American supervision. The beggars were still there lazing in the sun. And a bunch of wide-eyed provincials, probably from interior Maharashtra, were making a chakkar of the Taj and the Gateway, milling between the persistent Mumbaikar pigeons and the eager-beaver Gateway photographers, pausing to look out to sea at the bobbing boats.

In the next few days you can expect a total change in scenery when all boats and Mumbai-wallahs, be they beggars or billionaires, will be cleared from this area. Only the pigeons will stay.
Image: Some of the tonnes of technical equipment for US President Barack Obama's visit to Mumbai being unloaded at Mumbai's Taj Mahal hotel | Photograph: Vaihayasi Pande Daniel