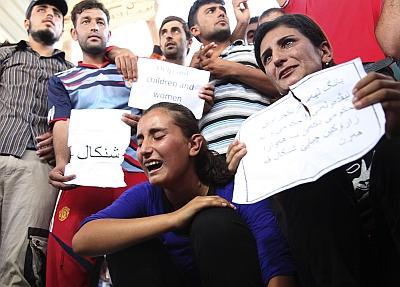 United States President Barack Obama has authorised "targeted airstrikes" against Islamic militants to protect American military personnel and airdrops of meals and water to thousands of religious minorities trapped on a mountaintop in northwest Iraq.
In a late night televised address, Obama on Thursday said the US "cannot turn a blind eye" when it has the capability to prevent genocide of Iraqi minorities stranded on mountain.
Obama said he has authorised US military to conduct air strikes against Islamic State militants if they advance further toward the city of Erbil, the capital of Kurdish region of Iraq.
In a speech that lasted for nine minutes, Obama explained the reasons for his decision, but reiterated that there would be no American troops on the ground.
"Today America is coming to help," he said in his remarks from the State Dining room of the White House, adding that when the lives of Americans are at risk and when thousands of innocent civilians at risk, the US will take action.
Thousands of families from the Yazidi minority community are reportedly trapped in the mountains without food and water after fleeing the rampaging fighters of the Islamic State, earlier known as the Islamic State of Iraq and Syria or ISIS.
Throngs of refugees, many of them Iraqi Christians, are also on the run after their largest city, Qaraqosh, was occupied by the militants from the al-Qaeda splinter group.
"We can act carefully and responsibly to avert potential act of genocide on that mountain," Obama said.
At the same time he vowed that US would not be dragged into another war in Iraq.
Defence Secretary Chuck Hagel said the US military is ready to carry out airstrikes inside Iraq. "The US military will also remain ready to conduct targeted airstrikes, if necessary, to help forces in Iraq fighting to break the siege of Mount Sinjar and protect Iraqi civilians trapped there," Hagel said in a statement from New Delhi where he is travelling.
"In addition, we are prepared to conduct airstrikes to protect American personnel against ISIL terrorist convoys should they approach Erbil," he said.
At the direction of Obama, US military conducted a successful airdrop of food and water for thousands of Iraqi citizens threatened by the Islamic State near Sinjar, Iraq.
The mission was conducted from multiple airbases within the US Central Command area of responsibility and included one C-17 and two C-130 aircraft that together dropped a total of 72 bundles of supplies.
They were escorted by two F/A-18s also from an airbase within the central command; the supply mission did not require any US ground forces. "I can confirm that tonight, at the direction of the Commander in Chief, the US military conducted a humanitarian assistance operation in Northern Iraq to air drop critical meals and water for thousands of Iraqi citizens threatened by the ISIL near Sinjar," a senior American defense official said.
The C-17 dropped 40 "container delivery system" bundles of fresh drinking water and was complemented by a C-130 loaded with an additional 16 bundles totaling 5,300 gallons of fresh drinking water. In addition, one C-130 aircraft dropped 16 bundles totaling 8,000 meals ready to eat.
The aircraft were over the drop area for less than 15 minutes flying at a low altitude and now safely exited.
In his address, Obama said that in recent days, terrorist group IS have continued to move across Iraq, and have neared the city of Erbil, where US diplomats and civilians serve at consulate and American military personnel advise Iraqi forces.
"To stop the advance on Erbil, I've directed our military to take targeted strikes against ISIL terrorist convoys should they move toward the city," he said, adding the US was also providing urgent assistance to Iraqi government and Kurdish forces to fight against ISIL more effectively.
According to senior administration official, the White House has been consulting with Congressional leaders.
The President would notify the Congress under the War Powers Resolution if American warplanes do attack in Iraq. Officials said, the administration believes its actions in Iraq are legal because of a request for help from Baghdad and under Obama's constitutional national security powers.
Obama also said, "There's no American military solution to the larger crisis in Iraq. The only lasting solution is reconciliation among Iraqi communities and stronger Iraqi security forces."
Secretary of State John Kerry, who is travelling in Afghanistan, said Iraqi leaders must confront the growing humanitarian and security crisis with the urgency that it demands. "They must do so knowing that the ISIL finds an inadvertent, unwitting ally in any delay in the political process inside Iraq. Only the ISIL wins if Iraqi political leaders avoid making tough choices rapidly to tip the balance in favor of inclusive and effective governance," he said.
Kerry said Obama acted expeditiously and appropriately in authorising targeted military action and providing significant humanitarian help to the people of Iraq at this very difficult moment when it is vitally needed.
Meanwhile, the Pentagon denied reports that it has already conducted airstrikes.
Image: Displaced demonstrators from the minority Yazidi sect gather during a protest against militants of the Islamic State in Arbil, north of Baghdad. Photograph: Azad Lashkari/Reuters