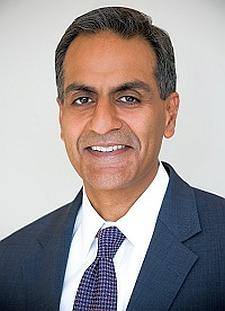 Rahul 'Richard' Verma has been nominated by United States President Barack Obama to be the new US ambassador to India, thus creating history in the annals of the Indian American immigrant experience, being the first member of the community to be named an American envoy to New Delhi.
The only other Indian American who was a US ambassador, was Obama's old college room-mate and presidential campaign fund-raiser Vinay Thummalapally who was the ambassador to Belize, a tiny country on the northeastern coast of Central America.
Obama, who nominated Verma, along with a few other individuals to key administration posts, on the eve of Prime Minister Narendra Modi's visit to the US and his summit with Obama at the White House on September 30, said, 'I am grateful that these impressive individuals have chosen to dedicate their talents to serving the American people at this important time for our country. I look forward to working with them in the months and years ahead.'
Verma, one of the country's preeminent national security and foreign policy professionals, is also a prominent attorney and a distinguished Air Force veteran who has served in the highest echelons of the public and private sectors.
He is also a Senior National Security Fellow at the Centre for American Progress, a leading Washington, DC, think tank, which is headed by another Indian American, Neera Tanden, who also earlier served in the Obama administration and also the Clinton administration.
Tanden told rediff.com immediately after the White House put out the announcement of Verma's nomination that "Rich will be a fantastic ambassador to India. He knows the issues facing the relationship inside and out, leads CAP's India work, and has excellent relationships inside the White House."
Congressman Ami Bera, the only Indian American serving in Congress, too applauded President Obama's announcement.
Bera said, "We are at a critical time for growing US-India relations, and Richard Verma is an experienced professional who will make an outstanding ambassador at such an important moment. He has many years of foreign policy experience as a high ranking official with the US Department of State, as an advisor in both the US Senate and the US House of Representatives, and during his years in the US Air Force."
"I have worked with him personally and trust in both his capabilities and his judgment. Most importantly, I know he understands the importance of strengthening the US-India partnership, and I look forward to working with him toward that goal as he takes on this new role," Bera added.
Hailing the nomination, Congressman Joe Crowley, vice chair of the Democratic Caucus in the US House of Representatives and the co-chair of the Congressional Caucus on India and Indian Americans, said: 'With over two decades of senior foreign policy experience, Rich Verma is a skilled and accomplished professional who will make an excellent ambassador to India.'
'From his time serving in the Air Force to high-ranking positions in government, Rich brings with him a wealth of experience,' Crowley said, and added, 'I have had the pleasure of working with Rich for many years and I deeply value his expertise and judgment.'
The lawmaker spoke of how he deeply valued Verma's 'expertise and judgment,' and declared, 'He is committed to building the US-India relationship, has access to the highest levels of the White House, and is exactly who we need at the helm as we look to further strengthen US-India relations.'
Former Assistant Secretary of Commerce in the Clinton administration, Raymond 'Ray' Vickery -- a close friend of Verma – told rediff.com, "Rich Verma is the right person at the right time to be the US Ambassador to India. He has a deep understanding of both the American and Indian political and governmental systems as well as a deep appreciation for the role of the private sector and economic engagement between the US and India."
Vickery said, "Rich is able to bridge gaps between nations, cultures, races, religions, and economic situations as well as anyone I know."
He added, "Rich has a deep love of both America and India that will stand him in good stead as he represents the US not just to government officials in New Delhi but also people throughout India."
Swadesh Chatterjee, the long-time community activist and Padma Bhushan winner who was the protagonist who put together the coalition under the umbrella of the US-India Friendship Council that was instrumental in pushing through the US-India civilian nuclear agreement legislation through the US Congress, told rediff.com, "Rich will be an excellent US Ambassador to India at this juncture of US-India relations. He is a leader in the Indian American community and his depth of experience in national security, US Congress, State Department and United States Army make him an outstanding candidate to be the Ambassador to India."
"He has travelled and worked extensively in India and understands the culture, religion and the sentiments of the people of India very well," Chatterjee said, and noted, " I have worked closely with him during the passage of the landmark US-India civil nuclear agreement. It is Rich who made the bill come to the floor of Senate during a lame duck session. It would never passed without his huge contribution."
An ecstatic Chatterjee said, "I was waiting for years for this day to come .The entire India American Community should celebrate this nomination and for his accomplishment and achievements over the years, and on behalf of the community."
Verma's parents hail from Punjab and they lived through the partition of India and its fight for independence.
They were the first and only ones in their families to be educated. They came to the United States in the early 1960s.
Verma's dad, Kamal Verma, taught at the University of Pittsburgh for 40 years and his mom, Savitri Verma, who passed away two years ago, was a special needs school teacher. They raised five young children in Western Pennsylvania, which is where, Verma, the youngest child, grew up.
Verma is married to Pinky Verma, an attorney and they reside in Bethesda, Maryland, a suburb of Washington, DC with their six-year-old twins, Lucy and Dylan, and nine year old daughter, Zoe and with their fox terrier, Arlo.
Verma's nomination will now go before the Senate Foreign Relations Committee, which will schedule a confirmation hearing before it rules on it one way or the other, but Congressional sources acknowledge that since Verma has not only been a much respected and admired Congressional staffer for several years, "but also worked across the aisle in a bipartisan manner and was so well liked," it's likely he would be confirmed without too much controversy.
One source told rediff.com, "Besides, he's also been put through this wringer before when he was up for confirmation when he was earlier nominated as Assistant Secretary of State and came through unscathed and it was a virtual formality. So, I don't foresee any problems.'
But, the source noted with Congress likely to leave town next week for at least six weeks and lawmakers get into campaign mode for the mid-term elections on November 4, any confirmation hearing for Verma is unlikely to be scheduled before this date.
In fact, there are scores of ambassadorial nominees in the pipeline still awaiting Senate confirmation and this has peeved the Obama administration, because the Republicans in the Senate have showed no inclination to expedite this process.