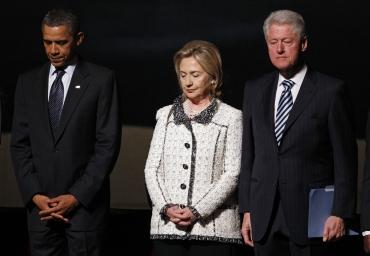 United States President Barack Obama joined world leaders in paying rich tributes to late Special Envoy for Af-Pak region Richard Holbrooke, calling him a leading light who served the country until his final moments.
"It is no coincidence that his life story so closely paralleled the major events of his times," Obama said, eulogising Holbrooke, who died on December 13, at a memorial ceremony, also attended by visiting Pakistan President Asif Ali Zardari on Friday.
Former President Bill Clinton, Secretary of State Hillary Clinton, a large number of Special Representatives for Afghanistan and Pakistan, foreign ministers and more than 120 diplomats, including Indian Ambassador Meera Shankar, also took part in the memorial ceremony held at the prestigious Kennedy Centre.
"The list of places he (Holbrooke) served and the things he did reads as a chronicle of American foreign policy," Obama said.
"Richard possessed a hard-headed, clear-eyed realism about how the world works. He was not naive. But he also believed that America has a unique responsibility in the course of human events," said the President.
Obama also announced the creation of an annual Richard Holbrooke Award to honour excellence in American diplomacy.
"Richard is gone now, but we carry with us his thirst to know, to grasp, and to heal the world around him. His legacy is seen in the children of Bosnia who lived to raise families of their own; in a Europe that is peaceful and united and free; in young boys and girls from tribal regions of Pakistan to whom he pledged our country's friendship; and in the role that America continues to play as a light to all who aspire to live in freedom and in dignity," he said.
Stating that Holbrooke had secured his place in history, Secretary of State Hillary Clinton said, "I am confident that the work he had done and was doing in Afghanistan and Pakistan will also stand the test of time."
"I personally received the Richard Holbrooke treatment many times. He would give me homework. He would declare that I had to take one more meeting, make one more stop. There was no escaping him. He would follow me onto a stage as I was about to give a speech, or into my hotel room, or, on at least one occasion, into a ladies' room ... in Pakistan," Clinton said amidst laughter and applause from the audience.
"There are few people in any time, but certainly in our time, who can say, I stopped a war. I made peace. I saved lives. I helped countries heal. Richard Holbrooke did these things. He believed that great men and women could change history. And he did. He wanted to be a great man so he could change history. He was, and he did," Clinton said.
Noting that his 'real relationship' with Holbrooke began almost 20 years ago, former US President Bill Clinton said the top diplomat did "many great things in his life, and he would be the first to say he did not do that alone".
"But ending the worst killing in Europe since World War II and giving Europe the chance to be united, whole and free was a very big deal. He could do. And he could do in matters big and small."
Chairman of the Joint Chiefs of Staff, Admiral Mike Mullen, remembered Holbrooke as a man who "understood, better than I, the very wisdom of seeking wisdom."
"He was the quintessential Washington know-it-all," Mullen joked.
"The man was monumentally, if not exasperatingly interested in everything -- art, music, culture, religion, politics. How he loved to talk politics. I'm happy to say I never challenged him in that theatre. I just nodded till he was finished and then slid him the check," Mullen continued, eliciting laughter from the audience.
Image: US President Barack Obama attends a funeral service for US Ambassador Richard Holbrooke with Secretary of State Hillary Clinton and former President Bill Clinton at the Kennedy Center in Washington | Photograph: Jim Young/Reuters