'With Prime Minister Modi's electoral victory, President Obama very quickly reached out, and we were off to the races.'
'We've seen two highly successful leader-level engagements in the past five months. We've really turned things towards a new beginning -- a new energy, a new momentum...' Aziz Haniffa/Rediff.com reports from Washington, DC.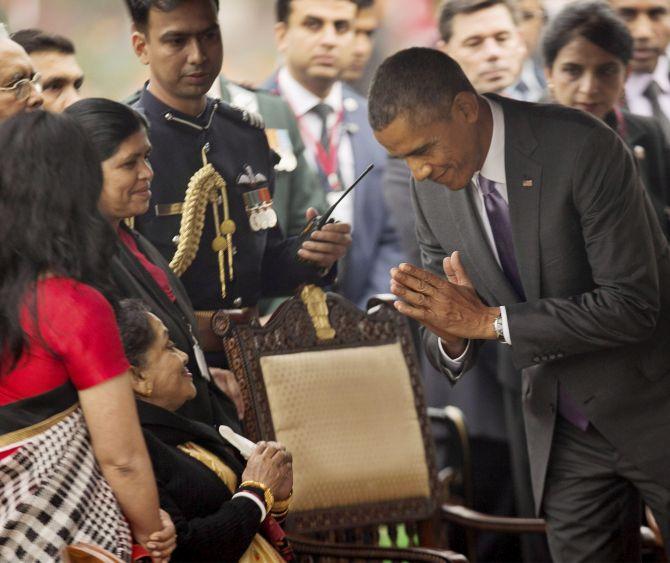 Defending President Barack Obama's declaration of a 'breakthrough' on operationalising the US-India civilian nuclear deal, a senior White House official said on Tuesday, February 3, 2015, that there were no absolutely no impediments to commercialise the agreement and the ball was now squarely in the court of the companies.
Phil Reiner, Senior Director for South Asian Affairs at the National Security Council, who traveled with Obama on Air Force One to India last month, said, "Essentially, what you're seeing with the breakthrough on civ-nuke is that at a policy level, there are no further impediments."
In a roundtable with select South Asian journalists based in Washington, DC, Reiner said the nuclear deal was now ripe for "operationalisation," and noted, "The governments don't necessarily get involved in the decisions that companies make, right?"
"What we've done is we've removed the ambiguity that was preventing those companies from moving forward," he said.
"A few steps still need to be put in place," Reiner acknowledged, "For example, there will be a conference in the relative near term on how to build the insurance pool elements that will go into actually making this a reality."
"It's a massive breakthrough that has held us up for years," he reiterated, " that prevented us from being able to take those next steps. At a policy level, we've been able to push at the leader level to get past that. That is tangible progress."
The same tangible deliverable, Reiner said, had been reached with regard to the US-India Defence Trade and Technology Initiative, and noted, "You have the announcement of not just one, not just two, but four 'pathfinder' projects, adding, "I think that was unexpected in all quarters."
When a question was raised if these are high-tech projects, Reiner argued that these are indeed high-tech and pointed out, "The next increment of the CBRE equipment is pretty high-tech, the Raven is pretty high-tech..."
"This is all incredibly high-tech and it's of interest, at the senior levels within the military establishment," Reiner said, and explained, "At its core, what it does is it creates the opportunity for enhanced interoperability between our acquisitions processes."
"So maybe you don't start with the F-35, but you start with a joint taskforce looking at jet engines. This is incredibly innovative in terms of what we're going to be able to do together."
"So again," Reiner asserted, "that's progress, tangible. A 10-year defence framework is tangible. So also clean energy space, there is a laundry list of things that we're working on, $4 billion that has now been made available. I could keep going. And we've really got lists of things that, to be quite candid, I think coming out of this visit that we were very pleased with in terms of tangible outcomes."
When one harked back "to the fact that in September we kick-started this, we've really seen a lot of progress since then. We've been able to institutionalise the nature of the discussion, but it has also moved forward a lot on the toughest things that we were facing together."
In his opening remarks, Reiner said there is no denying that "We have seen a fairly remarkable set of engagements that have accomplished a great deal over the past five to six months."
"A year ago, to fully admit, things were a bit adrift in the US-India relationship. There was a lack of energy needed to move forward on some of our toughest issues. The partnership remained sound, but, as we all can acknowledge, the outlook was not entirely optimistic."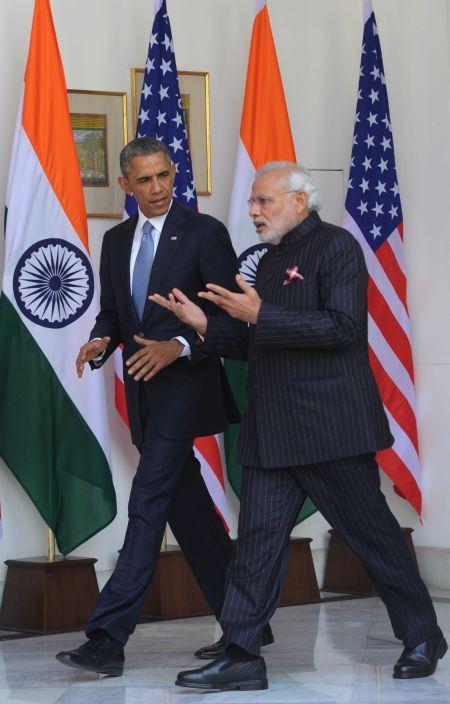 "With Prime Minister (Narendra) Modi's electoral victory in May," Reiner said, "President Obama very quickly reached out, and we were off to the races. We've seen two highly successful leader-level engagements just in the past five months, and I believe that we've really turned things towards a new beginning -- a new energy, a new momentum, but also tangible differences in the efforts that we've made."
"There have been peaks in this relationship in the past," he agreed. "But the effort with this visit was to not just ride the current wave of the moment, but to look for opportunities to try and step up what we're doing together and try and actually take things further than what we had attempted to do in September."
"So again, as the first president in US history to have the honour to be chief guest (at the Republic Day parade) and the first president to visit India twice during his tenure, we were incredibly excited to use this as a game-changing opportunity."
"I am not interested in overselling what it is that we ve accomplished," Reiner said, adding, "there will be a time in the coming months where we again encounter a tough set of issues that we need to work through, a policy crisis or a policy difference that will require senior-level engagement."
"What we've been able to take advantage of with the opportunity presented in September but here in January is to institutionalise the elevation of this partnership and create a certain amount of momentum that really cannot be reversed."
When reporters questioned him on his overflowing optimism and contended that issues of intellectual property rights, local content requirements and the like, would by the same token perhaps take the current momentum in the other direction, Reiner said the point was well taken.
"Inevitably, there is going to be tension," he said. "But if there wasn't tension, in my personal opinion that means you're not working hard enough. If you're working on the toughest issues together, there are going to be bumps along the road, but you have a framework in place that allows you to work through them, and they don't become issues that derail the partnership."
"We are in a place right now that is incredibly positive with lots of momentum," Reiner said. "That is why we wanted to institutionalise things via these frameworks. That will then allow for a greater level of trust, a greater level of engagement, a greater level of collaboration and be able to engage in the toughest issues so that they don't derail things at the same time. That is the intent."
Images: Top: US President Barack Obama greets India's First Lady Suvra Mukherjee at the At Home reception hosted by President Pranab Mukherjee, January 26, 2015. Photograph: PTI photo Bottom: US President Barack Obama and Prime Minister Narendra Modi at Hyderabad House. Photograph: MEA/Flickr