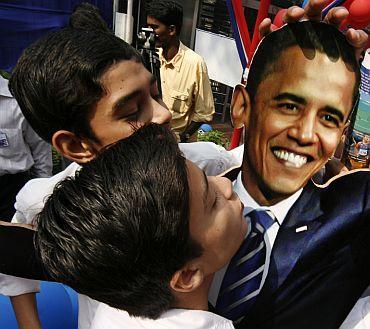 Underlining that it is a "unique" time for Indo-US ties, Defence Secretary Chuck Hagel on Friday said President Barack Obama's India visit is likely to produce "tangible and positive" results.
"I think the president's trip leaving this weekend, may well produce some very tangible and positive results of an effort being made, was made, continues to be made, by this department: not just me," Hagel told reporters at a Pentagon news conference.
He said that US Under Secretary of Defence for Acquisition, Frank Kendall, is now in India holding talks with his Indian counterparts, "closing out some of the things that we think can be delivered" during Prime Minister Narendra Modi and Obama's meetings. Modi and Obama are scheduled to meet in New Delhi on January 25.
Obama is travelling to India to attend the Republic Day parade on January 26 as its chief guest, a first for a US president.
"I think it is a unique time for India. It's a particularly, I think, unique time for this relationship between India and the United States. I am very proud of the progress we've made," Hagel said. "We'll make continued progress. We'll make more progress. We need to. But I think this will be seen (as unique) as you look back on this time, over the last couple of years, not just because of me, a lot of people have seen this," he said in response to a question.
"When I was in the senate, I talked about the potential that we have, and strongly supported the Bush administration's civilian nuclear initiative, which I may have been the first Republican in the senate to do that. So, it's an area that I've had particular interest in for a long time," Hagel said.
The outgoing US defence secretary said he has put the US-Indian relationship as high on his priority list "as any one area that we can find some not only common ground, but one where we can advance the relationship. And I've worked very hard on that."
Hagel had travelled to India within the first 100 days of the Modi-led government. He also met Prime Minister Modi when he came to Washington on September 30.
Ashton Carter has been named as the defence secretary nominee after Hagel resigned last November.

Image: Students reach out to kiss a cutout of Obama at the American Centre in New Delhi. Photograph: Reuters