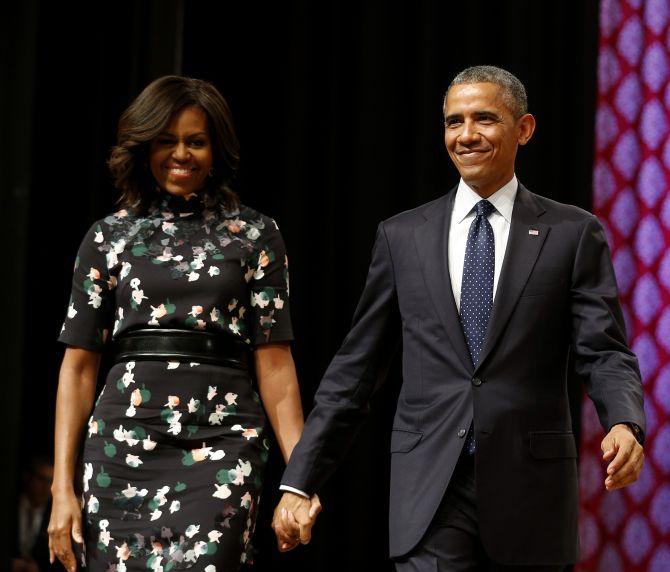 There are many reasons to love US First Lady Michelle Obama. In the words of her husband, US President Barack Obama, she's a strong woman, who always tells him when he's wrong. But, her style statement is another reason to love her.
During her three-day visit to India, FLOTUS has beguiled us with five stunning ensembles each one better than the last – all petal strewn.
1) Kicking off in style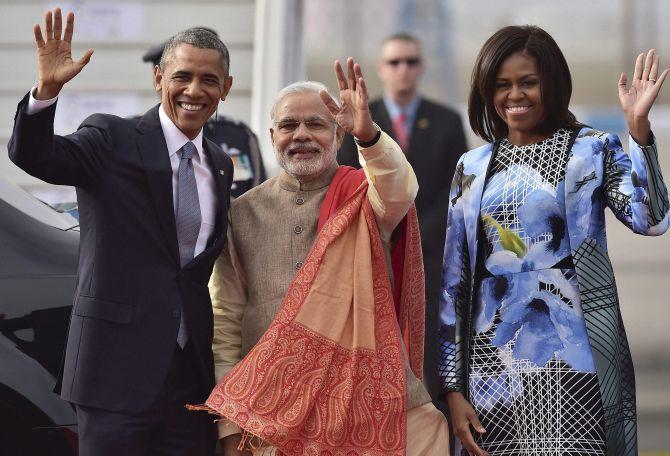 Michelle Obama kicked off her trip on a stylish note in a crepe dress and silk and wool jacket by Indian designer Bibhu Mohapatra paired with simple black pumps, which she wore when disembarking Air Force One and greeting the Indian PM Narendra Modi, in New Delhi. Mrs O has worn his designs before, including a pretty yellow sheath she wore on The Tonight Show with Jay Leno in August 2012.
---
2) The Presidential banquet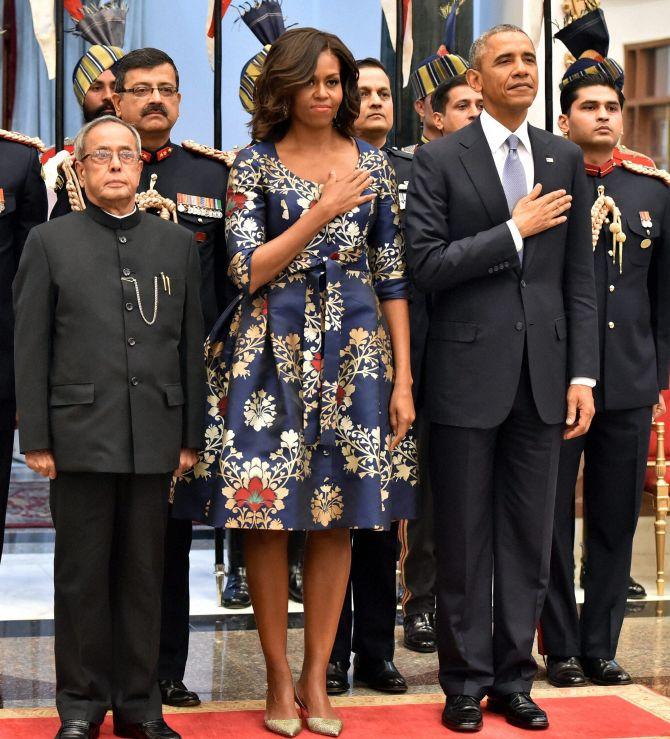 That same night, FLOTUS captured the minds and hearts of people all over again in a beautiful Carolina Herrera knee-length dress, again with a floral print. The dress had three-quarter length sleeves and an A-line skirt. And while, we may not be big fans of her dress, the fashion circles were abuzz with her style choices.
And while many may not have noticed, we couldn't miss the change in hairstyles. While she walked in with straight hair, she carried off the night look with soft waves, which framed her face beautifully.
---
3) The Republic Day parade coat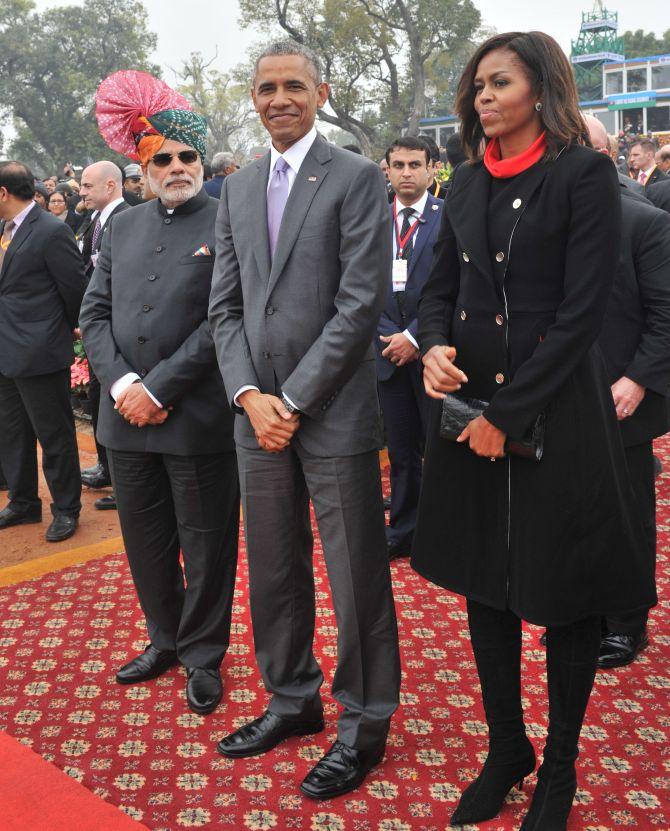 While we were not privy to the dress she wore below that black coat, we still can't stop talking about her look at the Republic Day parade. Michelle looked very smart in a black, almost military-style coat with a red scarf tucked in around her neck. It was also the only look where Michelle steered away from the floral trend that she maintained through the trip.
And they often say that shoes make an outfit and in this case, it's true. We can't help but be envious of her knee-length boots.
---
4) High tea at the Rashtrapati Bhavan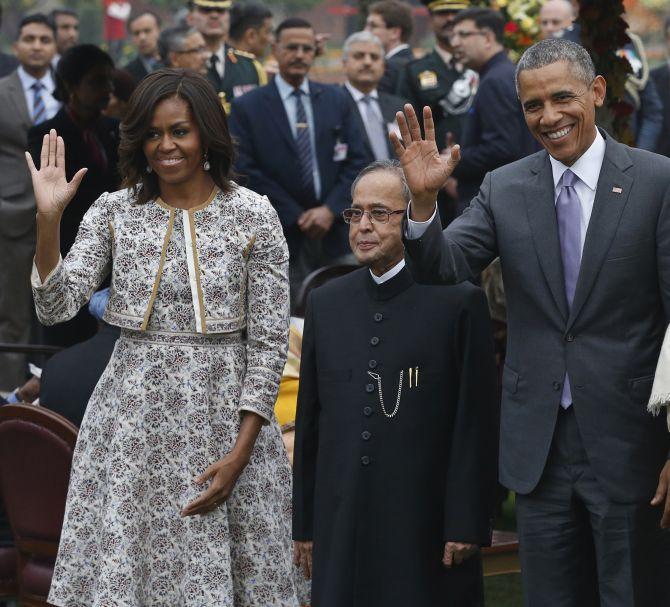 For President Pranab Mukherjee's "at home" tea party at the presidential palace, Rashtrapati Bhavan, on Monday in New Dehli, she wore a beige A-line dress scattered with purple flowers, with a matching cropped jacket.
---
5) Siri Fort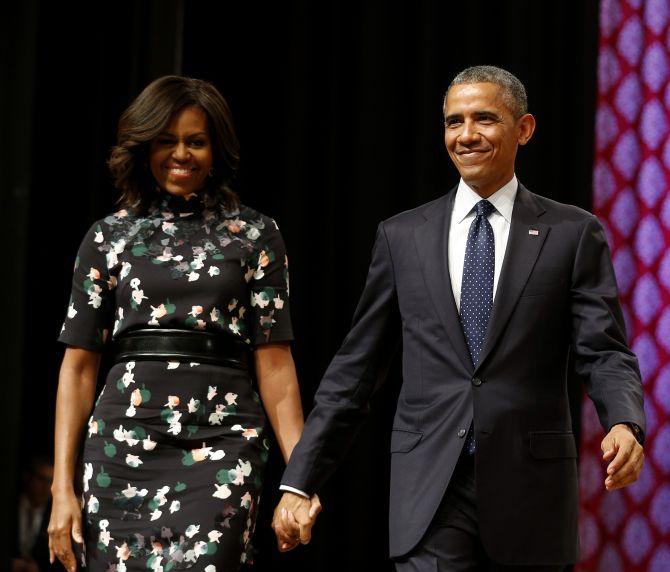 And for the Siri Fort town hall address, Michelle truly kept the best for last. We love her last look where she wore a fitting black dress with florals with a smart black belt cinched around her waist, showing off her beautiful waistline.
Photograph: PTI, Reuters
REDIFF RECOMMENDS: