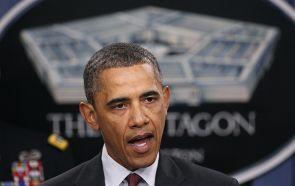 US President Barack Obama has appointed a woman for the second topmost post in the Department of Defence.
Christine Fox has been appointed as the Deputy Secretary of Defence, Defence Secretary Chuck Hagel said on Tuesday.
"I am announcing that President Obama has accepted my recommendation that he appoint Christine Fox Acting Deputy Secretary of Defence, effective December 5," he said.
"Christine, who until recently served as the department's Director of Cost Assessment and Programme Evaluation, is a brilliant defence thinker and proven manager," Hagel said.
As a key leader of the Strategic Choices and Management Review, she helped identify the challenges, choices, and opportunities for reform facing the department during this period of unprecedented budget uncertainty, he said.
"She will be able to help me shape our priorities from day one because she knows the intricacies of the department's budget, programmes and global operations better than anyone," Hagel said.
"Our men and women in uniform will have a passionate and thoughtful advocate in Christine Fox. I am grateful that she has agreed to return to the Department of Defence, pending the nomination and confirmation of a permanent successor to Deputy Secretary (Ash) Carter," said the Defence Secretary.