A woman journalist made a brave but vain attempt on Thursday to trek to Sabarimala temple while sporadic violence marked the 'hartal' called by Hindu right groups in Kerala over Wednesday's police action against those opposing entry of women of menstrual age into the shrine.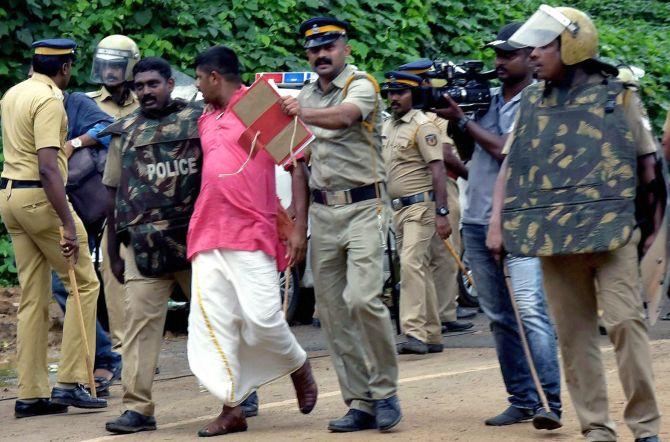 By all available indications so far no girl or woman in the age group of 10 to 50 years has visited the shrine of the 'Naishtik Brahmachari', the eternally celibate deity, since the time the doors to the temple opened Wednesday.
The New Delhi-based journalist of a United States media house accompanied by a male colleague, a foreign national, was forced to make a descent back to Pamba on the foothills from Marakkoottam after angry Ayyappa devotees prevented them from proceeding further. They were escorted to safety under police escort.
Madhavi, a 40 something gutsy woman from Andhra Pradesh, had also made a similar attempt on Wednesday but was forced to retreat.
WATCH: Woman journalist stopped from reaching Sabarimala temple
According to some accounts, the woman journalist was greeted with slogans of "lady go back" by protesters who want the long-standing ban on females of menstrual age that was lifted by the Supreme Court in a landmark judgment on September 28 to be back again. She later claimed stones were hurled and "something hit me on my shoulder".
Though her exact age was not known, eyewitnesses said she looked like in the 40s.
Incidents of stone-pelting on Kerala Road Transport Corporation buses were reported from some places, with Pathanamthitta, the district where troubled places including Sabarimala, Pamba and Nilackal are located, observed a complete shutdown.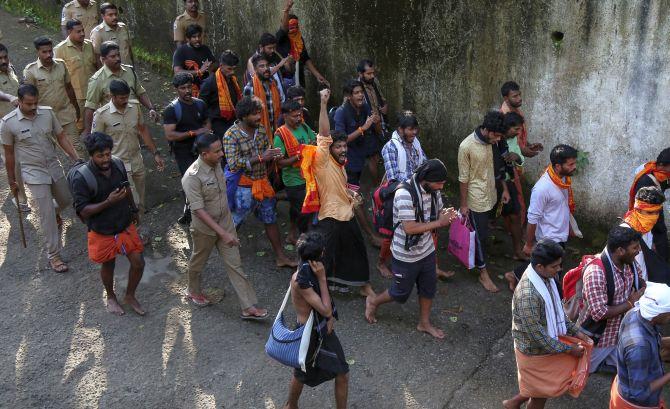 Orders prohibiting the assembly of more than four people were promulgated in the temple complex, Pamba and Nilackal but genuine devotees exempted from its purview.
The Bharatiya Janata Party and its allies lent their support to the shutdown called by Sabarimala Samarakashna Samithi, an outfit of devotees.
Antharashtriya Hindu Parishad led by Parvin Togadia also separately called for a hartal demanding that the Communist Party of India-Marxist-led Left Democratic Front government promulgate an ordinance to get around the apex court verdict.
The Congress did not back the strike calls but held demonstrations against Wednesday's police action in several places, especially Nilackal, the gateway to Sabarimala, where several protesters were injured.
Kerala Chief Minister Pinarayi Vijayan, who is abroad, accused the Rashtriya Swayamsevak Sangh and its allied organisations of trying to "destroy" the unique nature of Sabarimala temple where devotees, irrespective of caste, creed and religion, offer prayers.
He alleged that the "Sangh Parivar" wanted to establish the dominance of upper castes in the state.
"RSS is trying to destroy the Lord Ayyappa shrine by unleashing terror. The final objective of the Sangh Parivar forces is to establish the upper caste dominance by destroying the acceptance enjoyed by all sections of the society at the shrine," Vijayan said in a Facebook post.
WATCH: Section 144 continues for 2 days
State BJP chief P S Sreedharan Pillai demanded a judicial inquiry into the circumstances that led to violence in Nilackal. He accused police of provoking the devotees to indulge in violence.
"We saw on TV policemen throwing away framed pictures of Lord Ayyappa," Pillai alleged, and wanted to now why members of the family of the head priest of Sabarimala and members of the Pandalam royal family, the custodian of the shrine, were arrested during a "peaceful" protest at Pamba.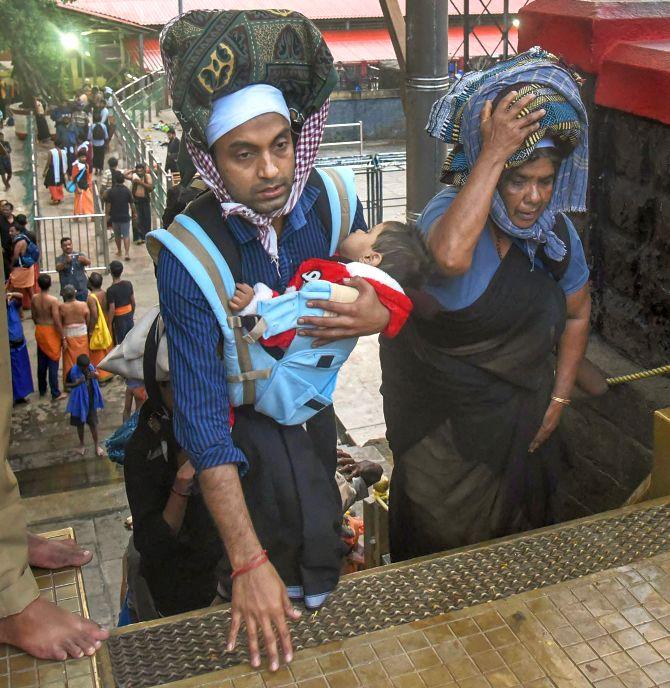 Kerala Religious Trusts Minister Kadakampally Surendran released an audio tape where a BJP leader was purportedly heard asking his supporters to reach Sabarimala
disguised as devotees and create trouble.
"The Centre is with you... why don't you bring an ordinance to get around the Supreme Court verdict if you are sincere about opposing it," Surendran said.
Some BJP youth wing workers were, meanwhile, arrested at Nilackal while holding a protest defying the prohibitory orders.
Sabarimala temple Tantri Kantaru Rajeevaru rejected as "false propaganda" claims on social media that the doors of the shrine will be locked if women and girls of the "banned" age group tried to enter it. He, however, urged them not to visit the temple to ensure the sentiments of Ayyappa devotees were not hurt.