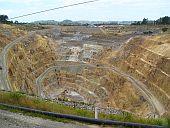 Protests have intensified in Karnataka over a central government move to dump nuclear waste in the abandoned pits of the famed Kolar Gold Fields.

On Saturday, activists blocked railway tracks and shouted anti-government slogans, as they marched on streets of towns like Robertsonpet, Bangarpet, Champion Reefs, Ooragaum, Marikuppam, Gowtam Nagar among others and denounced the proposal to dump nuclear waste in their areas.

Among those who staged the protest rallies were supporters of main opposition Bharatiya Janata Party hat incidentally is in power in Karnataka and the regional Janata Dal-Secular party. 

The unrest gained momentum after the surfacing of recent reports about the central government having filed an affidavit before the apex court to convert the KGF into a dump for the nuclear waste from the Kudankulam nuclear power plant in the neighbouring state of Tamil Nadu. 

The row over the nuclear waste dumping site comes amid the long active row over the establishment of the nuclear power plant at Kudankulam, which has already seen a lot of unrest among the activists.
 
According to nuclear physicists, although nuclear fuel waste is harmful, it can lay buried forever if disposed in a scientific manner.

The reported conversion of the gold mines into a nuclear waste dump has surprised the KGF residents as well as environmentalists because there had recently been talks of reviving the long-closed gold mines into work.

Declared sick and shut down in 2001, the central government had last year cleared the proposal to revive the mines, after three Parliamentary Standing Committees to explore gold deposits in KGF submitted a report stating that at least three million tonnes of gold reserves lie unexploited.

Initially, during the colonial era, the British owned the mines in KGF and later the Maharaja of Mysore took them over before the central government nationalised the mines and brought these under the administration of Bharat Gold Mines Limited.

The row over the KGF may fan the flames of the issue of the power plant in Kudankulam further as activists could launch scathing attacks on the government's proposals.