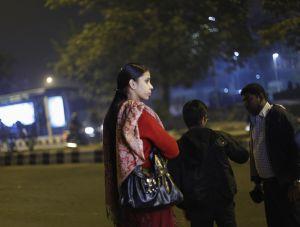 When the news of the heinous gang rape of a young photojournalist in Mumbai's desolate Shakti Mills made national headlines, web developer Chinamayi SK shared a link with her 158-odd Twitter followers that directed them to a new app on Google play store.
'Bachchao', a free android application developed by Chinmayi and her team, enables women to send alerts to friends and family in case of a potential threat.
"If you click on the app's red button, it sends alerts to three people in your phone book (who you have to choose, like speed dial), notifies them of your location and also automatically starts shooting a video of what's happening for ten minutes," Chinmayi explains.
Apart from sending out urgent calls for help, the app also routinely sends out your location to your friends.
It may have come just in time as outrage over lack of security for women in the country intensifies, but Chinamayi reveals that she started working on the app a little over a year ago.
The 26-year-old engineering graduate from National Institute of Engineering, Mysore, was at Hackathon (an annual app fest where developers meet to create tech ideas for social change) in Bangalore in June last year, where someone pitched an idea for such an application.
What triggered this pitch was an incident involving their female friend who had been attacked by some men a while ago and the police refused to register a case since there weren't any witnesses to corroborate.
"The prototype was done at the Hackathon itself but actual work on the Bachchao project began in January this year.
"We released it on Raksha Bandhan this year as a rakhi gift from brothers to their sisters. It has received 50 downloads so far," Chinmayi informs.
While Mumbai has suffered a major dent in its image as the most women-friendly Indian city, Chinmayi doesn't hold Bangalore -- the city she currently resides in -- in high regard either.
"It's seen as a safe city for girls but we hear of cases of eve-teasing every now and then. Just a few days ago, a girl was abducted from an auto rickshaw. Even before the Delhi, Mumbai rapes and similar incidents, we knew such an app was what we urgently needed," she says.
Link to app on Google Play Store (External link)
Image: A woman waits for a bus at a bus stop in New Delhi (photo for representation only)
Photograph: Mansi Thapliyal/Reuters