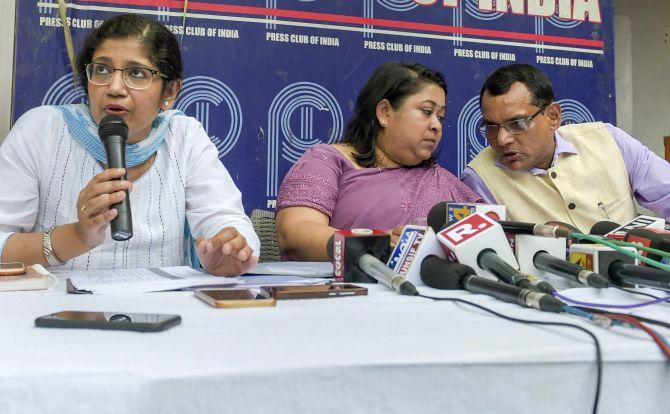 Hours after Delhi's IAS officers alleged that they are being targeted and victimised, Delhi Chief Minister Arvind Kejriwal on Sunday gave a public assurance to bureaucrats about their safety and security.
"I am told that IAS Officers Association has expressed concerns about their safety in a press conference today. I wish to assure them that I will ensure their safety with all powers and resources available at my command. It is my duty," the AAP chief said in a statement on Twitter.
"I have given similar assurances earlier also to many officers who have been meeting me privately. I reiterate it today," he added.
Kejriwal requested the officers to end their strike and resume duties for the continuation of governmental work.
"The officers are a part of my family. I would urge them to stop their boycott of elected government, return to work now and start attending meetings of ministers, respond to their calls and messages and join the, for field inspections," he said.
"They should work without fear or pressure. They should not come under any pressures from any sources, whether state government or central government or any political party," he added.
Earlier, Delhi's IAS association rebutted the claim of the Aam Aadmi Party that its officers are on a strike and alleged they are being targeted and victimised.
Revenue Secretary Manisha Saxena, along with Transport Commissioner Varsha Joshi, South Delhi District Magistrate Amjad Tak and Directorate of Information and Publicity Secretary Jaydev Sarangi held an unusual press conference at the Press Club in New Delhi and said that the IAS officers in Delhi are "working with utmost sincerity and dedication".
The officers also said that they are apolitical and neutral and their job is to implement the policies of the government.
"We are answerable only to the law and the Constitution," they said.
"We have been targeted and victimised and told that we are working with someone. We would like to inform that we are not on strike," Saxena said.
Delhi Chief Minister Arvind Kejriwal, accompanied by his deputy Manish Sisodia and ministers Satyendar Jain and Gopal Rai, have stayed put at the Lieutenant Governor's office since Monday, demanding that LG Anil Baijal should direct the IAS officers to end their "strike".
"We all are in our offices doing our work, conducting inspections and everybody is working with utmost sincerity and dedication," Saxena said, adding that the "abnormal situation" forced them to address the press and clarify their stand.
The officers denied the charge that the secretaries in the Delhi government are not answering the phone calls of ministers and MLAs and said that none of the phone calls go unanswered.
"Delhi has a unique position and it is something on which we have no control....We neither support any political party nor we are against any political party. We work as per law and Constitution," Saxena said.
Joshi claimed that she has been targeted by social media handles of a certain political party in an unfair manner.
"I have been targeted by social media handles of a certain political party in an unfair manner. The way we have been forced to do certain jobs is not right," Joshi said.
"Let us do our work. We are feeling frightened and victimised. We are being used for completely political reasons," Joshi added.
The officers said that they would not attend those meetings which they feel would be "unsafe".
They were apparently referring to the alleged assault of Delhi Chief Secretary Anshu Prakash by some AAP MLAs during an official meeting at Kejriwal's residence on the night of February 19.
Saxena also claimed that she had got a threat in the past but did not elaborate.