India on Thursday warned Canada against giving space to separatists and extremists elements, saying it was not good for the bilateral ties, days after a video of a float, depicting the assassination of former Prime Minister Indira Gandhi, at a parade in Brampton went viral on social media.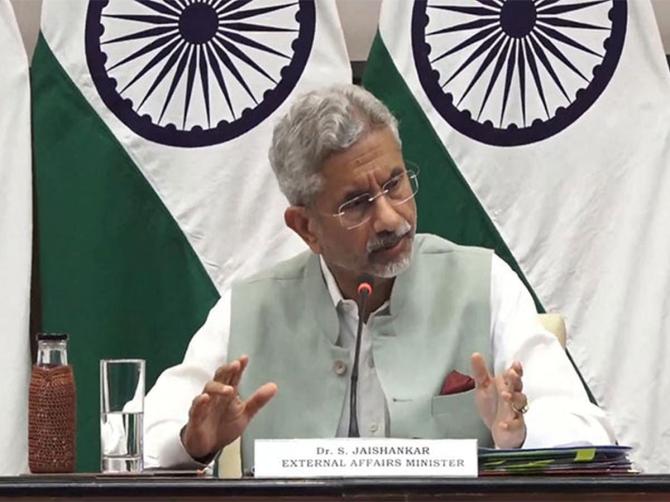 At a media briefing, External Affairs Minister S Jaishankar said he has a similar message to the United Kingdom and Australia against allowing pro-Khalistani elements to operate from their territories.
On the issue of around 700 Indian students facing deportation from Canada due to fraudulent admissions, the external affairs minister said that India is in touch with Canada over it.
Asked about the Brampton event, the minister said, "I think there is a bigger issue involved. And the bigger issue involved really is the space that Canada has continuously and frankly, we are at a loss to understand other than the requirements of vote bank politics, why anybody would do this."
"Because if you look at their history, you would imagine that they learn from history and they would not like to repeat that history. It is not only one incident, however egregious it may be," Jaishankar said.
"I think there is a larger underlying issue about the space which is given to separatists, to extremists, to people who advocate violence and I think it is not good for relationships and not good for Canada," he added.
A video has emerged on social media that showed a float depicting the assassination of Indira Gandhi, in what appeared to be a glorification of violence by Sikh separatists. It was reportedly part of a parade that was organised by some Khalistani elements in Brampton.
Asked about reports of the Canadian NSA criticising India For commenting on Canada's internal matter, Jaishankar used a Hindi phrase.
"The phrase that came to mind is actually a Hindi phrase which is ulta chor kotwal ko daate (the pot calling the kettle black).. If anybody has a complaint, we have a complaint about Canada... I was very perplexed by what I heard," he said.
Canadian High Commissioner in India Cameron MacKay tweeted that there is no place in Canada for "hate or for the glorification of violence".
"I am appalled by reports of an event in Canada that celebrated the assassination of late Indian Prime Minister Indira Gandhi. There is no place in Canada for hate or for the glorification of violence. I categorically condemn these activities," he said.
On the activities of Khalistani elements, Jaishankar said India has issues in the UK and Australia as well, apart from Canada.
"Our point is that they are a very small minority. They do not represent any significant body of opinion. Our plea (to these countries) has been that please understand that these are marginal elements, extremist elements; they are not good for you, they are not good for us, they are not good for the relationship," he said.
"It is not a message limited to Canada. Canada came up because you raised it and certain things have happened recently in Canada. If it happened somewhere we would have said the same things," Jaishankar said.
On some Indian students facing deportation from Canada over charges that they did not study in the colleges they applied for, Jaishankar said India has taken up the issue with Canadian authorities.
"If there were people who misled them (the students), the culpable parties should be acted upon. It is unfair to punish a student who undertook education in good faith," he said.
The external affairs minister said the Canadian prime minister has also made a statement in the house of commons on the issue.
"We are in touch with Canada on the issue," he said.
Meanwhile, the Congress leader and former Union minister Milind Deora shared the purported video on Twitter and said, "As an Indian, I'm appalled by the 5 km-long parade which took place in the city of Brampton, Canada, depicting the assassination of Indira Gandhi," he tweeted.
"It's not about taking sides, it's about respect for a nation's history and the pain caused by its Prime Minister's assassination," Deora said.
The Congress leader asserted that this extremism deserves universal condemnation and a united response.
Tagging Deora's tweet, Congress general secretary Jairam Ramesh said, "I entirely agree! This is despicable and Dr S Jaishankar should take it up strongly with the Canadian authorities."
Responding to Deora's tweet, senior Congress leader Shashi Tharoor said, "You are completely right... There should be no politics in condemning this despicable act across party lines."
Congress spokesperson Supriya Shrinate said an Indian prime minister was assassinated by separatist forces and her assassination has been glorified by pro-Khalistan extremists in Canada.
"And all that our government has done is make this one general comment -- without even naming Smt Indira Gandhi. Our national interests and security must be above any political concerns. India must take this up officially with the Canadian government," Shrinate tweeted.
The Congress also asked why Prime Minister Narendra Modi has not spoken to his counterpart and why the Canadian envoy not summoned to lodge a strong protest over the issue.