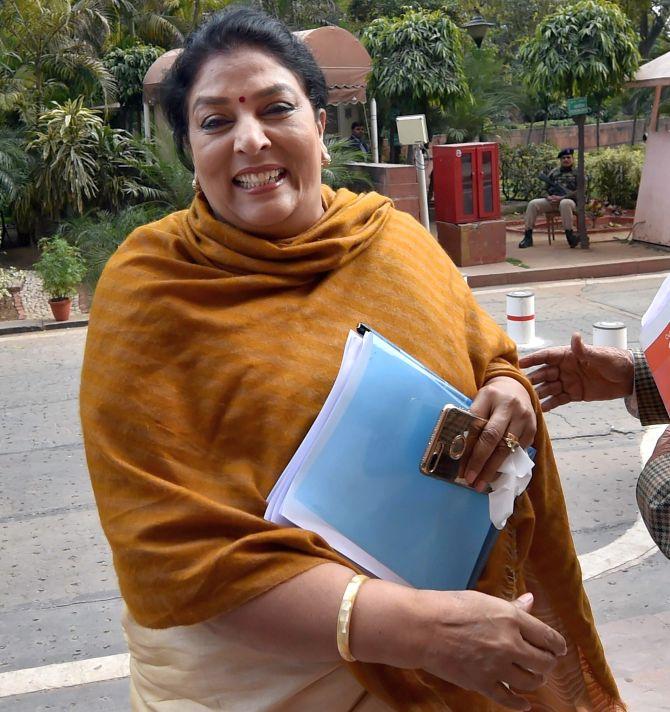 Congress MP Renuka Chowdhury on Thursday threatened to file a privilege motion against Kiren Rijiju for tweeting a video of Prime Minister Narendra Modi's sarcastic jibe on her but the union minister said he was only referring to how he (Modi) was not annoyed despite a "vexatious" laugh.
"This is highly objectionable and I am going to file a privilege motion (in Rajya Sabha)," Chowdhury told reporters minutes after Rijiju posted the video of the prime minister's remarks on her in Rajya Sabha on Wednesday on his Twitter handle.
According to the union minister of state for home, the Congress has been saying that Modi's remarks were breach of privilege but the Rajya Sabha chairman (M Venkaiah Naidu) remarked that such behaviour is unbecoming.
"I am only referring to how the prime minister didn't get annoyed. Despite such vexatious laugh by Renuka Chaudhary, the PM didn't get irritated," he said.
While replying to a debate on the motion of thanks to the President's address in the Rajya Sabha, Modi had claimed the concept of Aadhaar was mooted in 1998 by the then home minister L K Advani, who spoke about a universally used national identity card.
As Modi sought to shear the previous Congress government of the credit for Aadhaar, Chowdhury burst into a guffaw, drawing disapproval of Chairman Naidu.
"If you have some problem, go to a doctor, please," an irritated Naidu told Chowdhury.
Smiling broadly, Modi requested Naidu not to restrain the Congress MP.
"It is for the first time after the Ramayana serial that we are having the good fortune of hearing such laughter today," Modi said without elaborating, but apparently hinting at a negative character in the serial.
Chowdhury had also said she did not wish to respond to Modi's remarks, adding he had denigrated the status of a woman.
Both the Congress and its women's wing 'Mahila Congress' were livid and demanded apology from the prime minister.
Mahila Congress chief Sushmita Dev dubbed Modi's comment as "utterly sexist" and "downright distasteful".
"I express my shock at the utterly sexist and downright distasteful comment against an honourable Member of Parliament, made by none less than the honourable Prime Minister of India," she said in a statement.
She demanded that Modi apologise to Chowdhury and the nation "for speaking in a manner which encourages disrespectful behaviour towards women".
Senior Congress spokesperson Anand Sharma termed Modi's remark as "condemnable".
The prime minister, he said, "crossed the line of political discourse" with the use of his language and his "outrageous" reference.
"A women parliamentarian laughing at his language of claims what was alluded to is shameful. We condemn it. He should apologise," he told reporters.
Agitated over Modi's remark, Congress MPs created an uproar in the Rajya Sabha and forced it to adjourn.
Hardly had the House paid homage to its former member Frida Topno, when Congress lawmakers were on their feet protesting Modi's swipe at Chowdhury.
Chairman Naidu chided them for their "unbecoming" behaviour, and asked them to resume their seats. As the Congress members refused to relent, he adjourned the House.
Image: Congress leader Renuka Chowdhury during the budget session of Parliament in New Delhi. Photograph: Manvender Vashist/PTI Photo