President Donald Trump has vowed to answer any more threats by North Korea with "fire and fury", remarks that followed Pyongyang saying that it is considering strikes near United States strategic military installations in Guam island with its intermediate range ballistic missiles.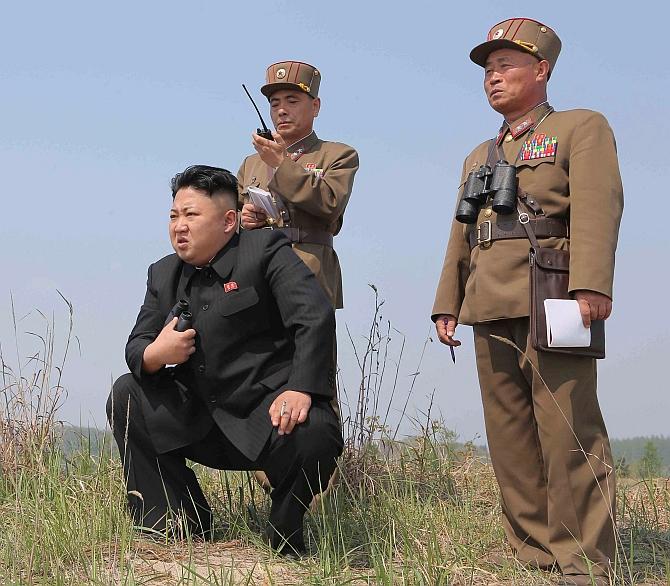 "North Korea best not make any more threats to the United States. They will be met with fire and fury like the world has never seen. He (Kim Jong-Un) has been very threatening, beyond a normal statement," Trump told reporters at his vacation home in New Jersey on Tuesday.
He was responding to questions on the North Korea's nuclear capabilities.
"As said, they will be met with fire, fury, and, frankly, power the likes of which this world has never seen before," he said.
The remarks came amidst reports that the nuclear-armed country is coming close to obtaining an atomic weapon that can strike the US.
Media reports said North Korea has successfully miniaturised a nuclear warhead that can fit inside its missiles.
The official Korean Central News Agency on Wednesday said that Pyongyang is "now carefully examining the operational plan for making an enveloping fire at the areas around Guam with medium-to-long-range strategic ballistic rocket Hwasong-1.
However, US Democratic lawmakers criticised Trump for making such a statement.
"This is not the time to push North Korea to make more threats and continue to test its long-range missiles. Instead the US must listen to senior statesman such as Bill Perry, Sam Nunn, and George Schultz to engage in bilateral diplomacy," Ro Khanna, the Indian-American Congressman representing Silicon Valley, said.
"The strict economic sanctions imposed by the UN should be used as a tool to start direct negotiations. Such tactics worked 20 years ago and the framework should be revisited given the disastrous consequences of any military conflict," he said.
Senator Dianne Feinstein said isolating the North Koreans has not halted their pursuit of nuclear weapons and Trump is not helping the situation with his bombastic comments.
"There is no question that North Korea is seeking to add a nuclear warhead to an ICBM capable of reaching the United States," she said.
"What this tells me is that our policy of isolating North Korea has not worked. The United States must quickly engage North Korea in a high-level dialogue without any preconditions. Hopefully, secretary Tillerson is already discussing the possibility of reopening talks with our Asian partners during his current trip. In my view, diplomacy is the only sound path forward," she added.
According to the Arms Control Association, a peaceful resolution to the escalating crisis is more difficult than ever to achieve.
"Trump's attempt to play the role of nuclear madman is as dangerous, foolish, and counterproductive as North Korea's frequent hyperbolic threats against the United States," it said in a statement.
"Trump's latest statement is a blatant threat of nuclear force that will not compel Kim to shift course. In fact, repeated threats of US military force only give credibility to the North Korean propaganda line that nuclear weapons are necessary to deter US aggression, and it may lead Kim to try to accelerate his nuclear program," the statement added.
Meanwhile, the US State Department said that they are willing to talk with the North Koreans.
"I know he (secretary of state) was quoted most recently about willing to talk with the North Koreans and we assure them that their peace and prosperity is best served by engaging with us and having a denuclearised North Korean peninsula, it's on the assumption that they stop their missile tests and stop their nuke tests and stop the development of a nuclear weapon," Deputy Secretary of State John Sullivan told a news conference.
Congressman Mike Turner, chairman of the House Armed Services Subcommittee on Tactical Air and Land Force, said that China has to step up to the plate and take a firm stance that North Korea's missile and nuclear weapons programs are unacceptable.
"The threat North Korea poses to global stability grows daily under its erratic regime. China must be responsible for bringing North Korea to the table with the international community to discuss a de-escalation and surrender of its advanced weapons capabilities," he said.
Senator Joe Donnelly, ranking member of the strategic forces subcommittee, said the Asian nation is pressing forward on the development of a nuclear missile that threatens the US.
"It is long past time for the United States to have a clear, comprehensive strategy to address this rapidly growing threat," he said.