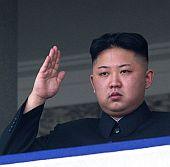 North Korea on Wednesday fired a long-range rocket in its second launch under its new leader, defying warnings from the United Nations and Washington.
South Korean and Japanese officials confirmed that lift-off took place at 9:51 am (6:21 AM IST).
North Korea declared the launch of a rocket and satellite a success, and state television planned a special broadcast about the launch at noon.
Yonhap said the three-stage rocket's first stage had separated as scheduled and splashed down in the sea off South Korea's southwest coast.
A successful launch this time would carry profound security implications, marking a major advance in the North's bid to mate an intercontinental ballistic missile (ICBM) capability with its nuclear weapons programme.
Japan had been on high alert since the 13-day lift-off window opened, despite a suggestion from Pyongyang that it could delay the much-criticised blast-off.
Tokyo deployed missile defence systems to intercept and destroy the rocket if it looked set to fall on its territory, with missile batteries in and around Tokyo and in the Okinawan archipelago.
North Korea says the Unha rocket was meant to put a satellite in orbit. A similar launch in April broke apart shortly after liftoff, and the condemnation that attempt received is likely to be repeated.
Most political analysts believe the launch is designed to bolster the credentials of new leader Kim Jong-un as he cements his rule over the country of 22 million people.
A government official in Seoul said recently that the transition of power to Kim Jong-un did not appear to be going as smoothly as anticipated and there were signs that the regime was concerned over the possibility of rising dissent.
"Whether the satellite launch (orbit) itself succeeds or not, it is a success for North Korea anyway," said Kim Young-soo, a North Korea expert at Sogang University in South Korea.
South Korean president Lee Myung-bak convened a meeting of national security officials and ministers soon after the launch and a similar meeting was held in Tokyo.
It is likely the UN Security Council will convene soon to discuss ratcheting up sanctions against North Korea over the launch, which the UN says breaches the current sanctions.