North Korea has fired four ballistic missiles, three of which landed in Japan's Exclusive Economic Zone, CNN quoted Japanese Prime Minister Shinzo Abe as saying.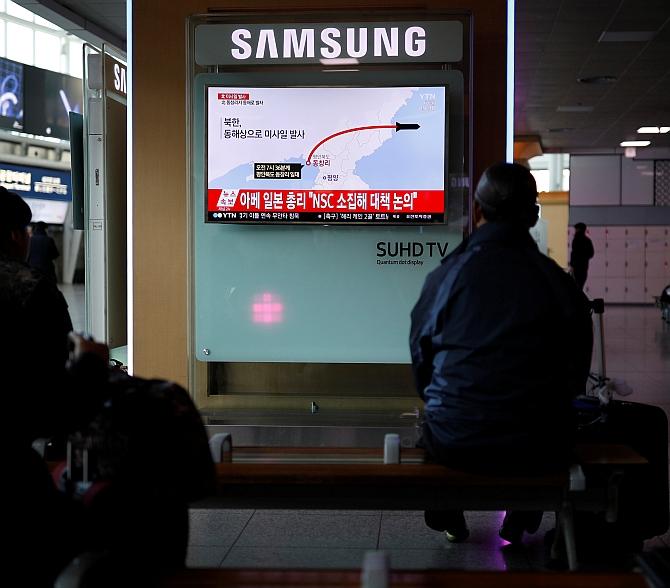 South Korea Defense Ministry spokesman Kwon Ki-joon, said that "several projectiles" flew about 1,000 kilometers.
According to South Korean Defense Ministry official, the launches took place in North Pyongan's Tongchang-ri province, and the projectiles are believed to have landed in the East Sea of Japan.
The missile launches come even as South Korea and the United States are currently holding their annual military exercises, known as Foal Eagle.
North Korea has already denounced this exercise through state media service KCNA.
"Now that the US imperialists and the South Korean puppet forces again kicked off the dangerous nuclear war drills against the DPRK at its doorstep, our army will counter them with the toughest counteractions," CNN quoted a statement.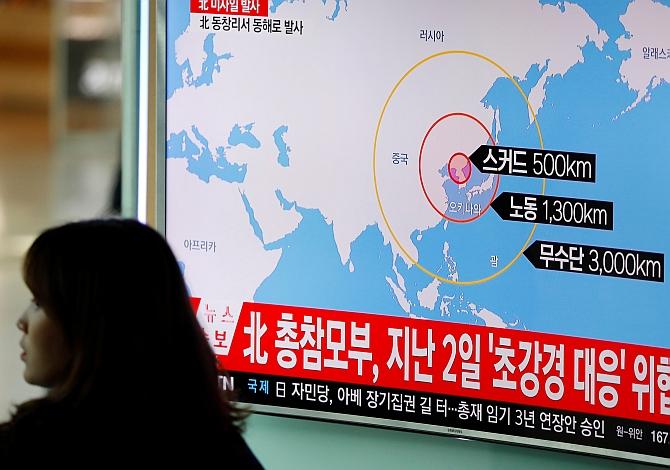 After calling a meeting of the National Security Council's Standing Committee on Monday morning, South Korea's acting president, Hwang Kyo-ahn, said the launch signaled "a real and imminent threat to the safety of our people."
Hwang called on the United States to complete the installation of the Terminal High Altitude Area Defense, an advanced missile defence system that the two countries announced on July 8 to counter North Korea's nuclear and missile programme.
After the announcement, North Korea's military threatened an unspecified "counter-action" that would turn the south into a "sea of fire."
North Korea test fired a new type of missile, known as the Pukguksong-2, into the sea early last month, and has said it will continue to launch new strategic weapons.
"Not only Pukguksong-2 but newer independent strategic weapons will fly high vigorously in the sky off the ground as long as the United States and the puppet regime are going ahead with their nuclear threat to us and an exercise for invasion war against the North," the Rodong Sinmun, the North Korean ruling party's official newspaper, said in a commentary last week.
Last month's test was the first since US President Donald Trump was elected.
Images: Passengers watch a television broadcasting a news report on North Korea firing ballistic missiles, at a railway station in Seoul, South Korea, March 6, 2017. Photograph: Kim Hong-Ji/Reuters