'It is not that I don't want to say "Jai Shri Ram".'
'I only said I will not say this slogan under any pressure.'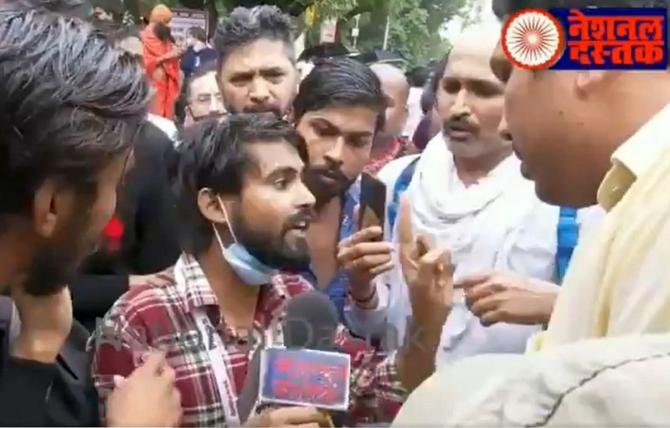 Anmol Pritam, a reporter from National Dastak, was hounded (external link) by a crowd after he refused to chant 'Jai Shri Ram' when he had gone to cover the 'Bharat Jodo Movement' organised by former Bharatiya Janata Party spokesperson Ashwini Upadhyay at Delhi's Jantar Mantar on Sunday.
The protestors were demanding an end to 'colonial era laws' and the introduction of a Uniform Civil Code.
At the same protest, anti-Muslim slogans were allegedly raised, following which the Delhi police arrested six people, including Upadhyay.
Anmol Pritam tells Rediff.com's Syed Firdaus Ashraf what happened on Sunday.
---
I have covered a lot of protests in my career as a reporter and I was not at all worried to do so this time too.
When the crowd got agitated at me, I thought I will be able to handle it smoothly and there won't be any problem.
It was only later on I realised how wrong I was.
The problem erupted because I asked a question to the agitators, that when Prime Minister Narendra Modi was distributing food rations in rice bags to poor people across the country, was it the right time to raise such provocative religious slogans?
Today, there is no food to eat in these Covid times.
In such a situation, why is this crowd not talking of hunger and employment issues rather than talking of the population control bill, etc.
Before I could complete my question, the crowds started shouting slogans against me, saying that I am a 'jihadi'.
A voice from the crowd said, 'Was India not poor for the last 70 years? Has it turned poor only now under Modi's leadership?'
They then started shouting that I must say 'Jai Shri Ram'.
Suddenly, one man in the crowd came from nowhere, put a hand on my shoulder and asked, "Tumharey mooh mein dahi jammi hai kya? (What have you got in your mouth?)"
He repeated this thrice and then told me, 'Why are you not shouting "Jai Shri Ram" as others in the crowd are doing?'
At that point, a thought came across my mind, that it is my choice to say 'Jai Shri Ram' or not.
My inner voice said: Nobody can force me to say 'Jai Shri Ram'.
I became adamant, but at that time I saw anger in the eyes of the crowd against me.
I thought they would attack me that very moment.
I realised that if I don't say 'Jai Shri Ram' they can beat me up, harm me bodily and inflict wounds.
The wounds will take time to heal and at best I will be bed-ridden for one year.
But then soon better sense prevailed over me and I told my inner conscience that if I say 'Jai Shri Ram' under pressure from the crowd, all my life I will not be able to forgive myself.
I felt if I say 'Jai Shri Ram' under pressure, my soul will be hurt.
Probably this will hurt all my life and I would not be able to recover from it.
My inner conscience told me that I cannot surrender to a crowd which is full of animosity in their hearts.
I thought it is no harm getting beaten up by the crowd right there.
Even if I die, I will have died defending my freedom of expression and freedom of choice.
I will die a happy man telling myself that I did not surrender to the demands of a bloodlust crowd.
Keeping calm, I told them to speak to me on issues and on my reporting.
I said, my job is that of a reporter and to report on the happenings around me.
I am not at their rally to talk about my personal beliefs.
Even later, I was told on Twitter that I am a Hindu but did not say 'Jai Shri Ram'.
I replied stating, 'I was doing my job as a reporter. My identity over there was that of a reporter. It was neither Hindu nor Muslim. Journalism is my religion.'
As a journalist, my religion is to point out to the public that we talk of taking our country to the moon, but on the other hand we don't have enough food to feed our people.
Here in Delhi, the national capital of India, people are sleeping on the streets because they don't have money to pay for a roof over their head.
When we bring the Hunger Index to zero then we will have real achievement as a country.
What does the 'Jai Shri Ram' slogan mean to me?
If anybody knows the history of India they also know the real reason for the slogan 'Jai Shri Ram'.
I don't need to explain.
It is not that I don't want to say 'Jai Shri Ram'.
I only said I will not say this slogan under any pressure.
Moreover, if someone believes in Lord Ram and greets me with 'Ram Ram', I will surely reply with 'Ram Ram'.
This is our culture and we all respect religious sentiments.
Spiritualism and religion are about love and not hate.
I am happy that six people have been arrested in the case, but I feel all of them who spread hatred must be arrested.
If they are arrested, then the message will go across that those people who are targeting a particular community and polluting the communal atmosphere in the country will not be spared.
These people must be punished harshly.
We have seen in the past that the people who were involved in lynching were garlanded by ministers and the media too glamourised them.
Social media was also glamourising them.
If the police take legal action against them and the people who motivate these crowds, only then there will be peace in the country.
If there is no peace within a family, then the family does not progress.
The same is the case with the country.
I am happy that many people came out in my support after the video of the incident went viral.
A mob of 150 people came to kill me at that time and in retrospect I feel that there are millions of Indians who came out and supported me openly.
I am happy because people came out to support my freedom of speech.
I am not a hero nor think I have done something heroic.
I have done only what my duty demanded. I am just an ordinary reporter.
There are many heroes like me who are fighting for their own cause, but are unknown to the world.