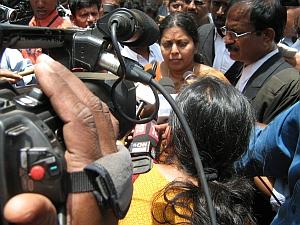 A criminal court in Valliyoor, Tirunelveli district of Tamil Nadu has issued a non-bailable warrant against Peoples Movement Against Nuclear Energy leader S P Udaykumar, who has been leading a year-long struggle to stop the Kudankulam Nuclear Power Project. 
If arrested, he will be in jail for a very long time.
Two months ago, Udaykumar had told rediff.com, "There are more than 700 cases against me. Some of them call me an anti-national. Am I anti-national? I am just fighting the people's cause for more than a decade."
"Earlier people did not support me; but after the Japan disaster which played out on television channels around the world, the ground support has swelled. I will not be intimidated by cases. I will lead the struggle to the end," he had said.
On September 11, he addressed the media as usual. But instead of going back to the Idinthakarai church where he normally stays, he got into a boat and left with 10 fishermen and his lawyer Pushparayan. 
On September 10, the court had issued summons to him, ordering him to be in court on September 18. The summons was served to his father. The defence lawyer argued that it was not legally tenable to serve the father, since Udaykumar was not a minor. 
Meanwhile, Udaykumar's wife Meera has been asked to come again to court on October 8, in a minor case. 
In Manapadu village, where a fisherman was killed a week ago, the situation was seemingly peaceful. Periyathalai, another coastal hamlet had a notice pinned on the road post saying, "Fifth day of fast continues"

Idinthakarai is the centre of the Kudankulam anti-nuclear protest. Outside the church is a huge pandal. A crowd is sitting there and chatting.
Father Jaikumar, with whom Udaykumar stays at the Idinthakarai church, said, "Udaykumar will not appear in court on Tuesday." He added that former Kerala chief minister V S Achutanandam was also expected to arrive to show his support for the movement. 
The ex-CM was stopped at the border and requested to return by the Tamil Nadu police. Jaikumar said, "On Wednesday morning we are planning a protest in Tuticorin at 10 am. Please come."
He then told his people to get a barber as he wanted a hair cut. He did not seem to be particularly bothered that his name was among the five persons accused of being accused as anti-nationals along with another priest Father Jesuraj. The other two were lawyer Pushparayan and Milton. The last two are said to be with Udaykumar. 
When Meera came out of the court she was mobbed by the media. She clarified that PMANE had never received any foreign funding and the government has been making false accusations.
The court issued the warrant at 2.35 pm and five minutes later the Tirunelveli Superintendent of Police Vijayendra Bidari left for Kudankulam.
Was the arrest imminent? Tonight, said police sources. There is a massive mobilisation of the Tamil Nadu police in the coastal villages. They are anticipating trouble once the leader is arrested. Inside the nuclear power plant, the loading of fuel is on. KNPP public relations officer Anbumani told rediff.com, "We cannot speak to the press just now. Let all this stop and then you can come and meet us". 
Kudankulam is guarded by a heavily-armed contingent of the Central Industrial Security Force.
Image: Meera Udaykumar speaking to the media outside Valliyoor Court. Photograph: A Ganesh Nadar/Rediff.com.
Also read:  
'It is very scary': Udaykumar's wife speaks out